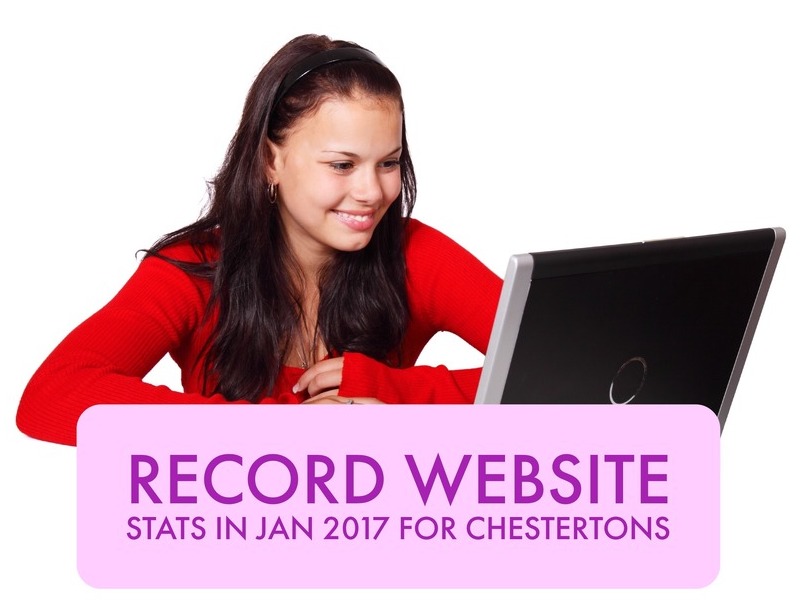 Chestertons Gibraltar recorded its highest ever number of website visitors in a single month in January 2017. The number of unique users visiting the site in January 2017 was 95% higher, nearly double, than that of January 2016. It was also 20% above the previous record set in October 2016. The number of sessions on the site by these users grew by similar numbers.
There is more than one reason for the hike in the number of visitors. Firstly, the level of interest in Gibraltar as a jurisdiction has impacted the results. In this post referendum era, Gibraltar is in the news more and more and gaining worldwide interest. Users search for Gibraltar and Chestertons is at the top or near the top of most search engines in respect of Gibraltar real estate. Secondly, Chestertons Gibraltar was featured in property articles in the Daily Telegraph and the Wall Street Journal in January which added to the international exposure of the website. Thirdly, Chestertons Gibraltar's own marketing campaigns have been hugely successful of late with a pro-active social media policy which has seen Chestertons' Managing Director's own Twitter profile, @Gibraltar_Mike, regularly scored in the world Top 100 of real estate professional personal profiles by USA based international realtor Mondinium.
"We have 58% more followers on our company Twitter profile than our nearest competitor in Gibraltar and in January we had more engagements (likes and clicks) on our Facebook page than any other estate agent in Gibraltar" said Mike Nicholls, Chestertons' Managing Director. "The results are truly outstanding", he added, "there's a lot of hard work behind these amazing figures with the effect of our tie up with the UK's leading portal Rightmove also contributing for the first time". Chestertons now publishes every open market property that is listed with them for sale on Rightmove as standard "simply because, the UK is such a strong market for us" commented Nicholls. Chestertons' listings are also found on international portals expatfocus.com and globimmo.com with further tie ups to be announced shortly.
The website activity has a definitive correlation with the number of viewings as in January 2017, there were 22% more viewings than in January 2016. The number of completions was also higher but comparisons with prior months can be misleading because the property interest leading to the completion will have been a varied number of weeks beforehand.
The figures represent a success for both Gibraltar and Chestertons, especially in this Brexit negotiation era where there is seemingly so much uncertainty. What is clear is that website activity leads to enquiries, enquiries lead to viewings, viewings lead to offers and offers lead to sales. All of which appear to be on the up.
"And that" said Nicholls, "is why we are in business".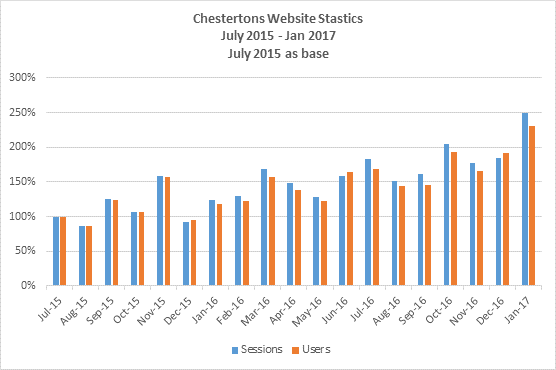 As a bit of fun we have listed all the countries (83) and cities (581) from where every January 2017 visitor was located when using our website. Information provided by Google!
| | |
| --- | --- |
| Country (Google defined) | Ranking (out of 83) |
| Andorra | 36 |
| Australia | 13 |
| Austria | 24 |
| Bahamas | 27 |
| Barbados | 30 |
| Belgium | 37 |
| Bolivia | 54 |
| Brazil | 26 |
| Bulgaria | 53 |
| Canada | 17 |
| Cape Verde | 66 |
| China | 55 |
| Colombia | 65 |
| Costa Rica | 56 |
| Cyprus | 38 |
| Czech Republic | 45 |
| Denmark | 9 |
| Dominican Republic | 67 |
| Ecuador | 57 |
| El Salvador | 80 |
| Estonia | 68 |
| Finland | 46 |
| France | 6 |
| Georgia | 69 |
| Germany | 7 |
| Gibraltar | 1 |
| Greece | 21 |
| Guernsey | 19 |
| Hong Kong | 18 |
| Hungary | 33 |
| India | 28 |
| Indonesia | 70 |
| Iran | 72 |
| Iraq | 71 |
| Ireland | 10 |
| Israel | 5 |
| Italy | 15 |
| Japan | 39 |
| Jersey | 31 |
| Latvia | 60 |
| Lithuania | 47 |
| Luxembourg | 59 |
| Macau | 77 |
| Macedonia (FYROM) | 76 |
| Malaysia | 34 |
| Malta | 22 |
| Mexico | 32 |
| Moldova | 75 |
| Monaco | 74 |
| Morocco | 48 |
| Netherlands | 14 |
| New Caledonia | 49 |
| New Zealand | 41 |
| Nigeria | 23 |
| Norway | 40 |
| Panama | 61 |
| Peru | 52 |
| Philippines | 50 |
| Poland | 16 |
| Portugal | 8 |
| Qatar | 29 |
| Romania | 25 |
| Russia | 42 |
| Saudi Arabia | 62 |
| Senegal | 63 |
| Serbia | 51 |
| Singapore | 43 |
| Slovakia | 79 |
| Slovenia | 78 |
| South Africa | 35 |
| South Korea | 73 |
| Spain | 3 |
| St. Lucia | 58 |
| Sweden | 11 |
| Switzerland | 12 |
| Thailand | 44 |
| Turkey | 64 |
| Ukraine | 81 |
| United Arab Emirates | 20 |
| United Kingdom | 2 |
| United States | 4 |
| Zimbabwe | 82 |
| | |
| --- | --- |
| City (Google defined) | Ranking (out of 581) |
| | |
| A Coruna | 90 |
| Aalborg | 316 |
| Aberdeen | 82 |
| Abingdon | 92 |
| Abu Dhabi | 275 |
| Abuja | 159 |
| Adeje | 85 |
| Afragola | 122 |
| Aix-en-Provence | 338 |
| Albufeira | 44 |
| Alcala de Henares | 325 |
| Alderley Edge | 185 |
| Alexandria | 535 |
| Algeciras | 18 |
| Alhaurin de la Torre | 11 |
| Alhaurin el Grande | 553 |
| Alicante | 88 |
| Almada | 502 |
| Almeria | 180 |
| Alness | 435 |
| Alverca do Ribatejo | 498 |
| Amadora | 499 |
| Amsterdam | 95 |
| Andorra la Vella | 86 |
| Annecy | 342 |
| Antalya | 514 |
| Antibes | 91 |
| Antwerp | 276 |
| Aranjuez | 554 |
| Arcos de la Frontera | 265 |
| Argeles-sur-Mer | 564 |
| Ashburn | 126 |
| Ashford | 186 |
| Athens | 99 |
| Auckland | 490 |
| Austin | 532 |
| Aydin | 515 |
| Ayr | 118 |
| Badhoevedorp | 244 |
| Bagnes | 551 |
| Bangkok | 256 |
| Bangor | 443 |
| Barcelona | 28 |
| Bari | 66 |
| Barnsley | 187 |
| Barnstaple | 343 |
| Barrow-in-Furness | 344 |
| Barry | 234 |
| Basel | 101 |
| Basildon | 188 |
| Basingstoke | 132 |
| Bath | 189 |
| Bayonne | 46 |
| Bedford | 163 |
| Beijing | 296 |
| Belchatow | 248 |
| Belem | 282 |
| Belfast | 63 |
| Bengaluru | 452 |
| Benidorm | 317 |
| Benitachell | 266 |
| Bergamo | 462 |
| Berkhamsted | 345 |
| Berlin | 41 |
| Bern | 172 |
| Beverley | 102 |
| Bhubaneswar | 454 |
| Birchwood | 190 |
| Birkenhead | 191 |
| Birmingham | 14 |
| Birstall | 192 |
| Bishop Auckland | 346 |
| Bishop's Stortford | 193 |
| Blackburn | 347 |
| Bletchley | 348 |
| Boardman | 259 |
| Bognor Regis | 349 |
| Bolton | 103 |
| Bordeaux | 331 |
| Boston | 350 |
| Bournemouth | 194 |
| Bradford | 42 |
| Brasilia | 281 |
| Bratislava | 581 |
| Brecon | 444 |
| Brenes | 70 |
| Brentford | 195 |
| Bridgend | 119 |
| Bridgwater | 133 |
| Brierley Hill | 351 |
| Brighton | 73 |
| Brisbane | 128 |
| Bristol | 22 |
| Bruckmuhl | 175 |
| Bruges | 167 |
| Bucharest | 96 |
| Budapest | 83 |
| Bulawayo | 540 |
| Burford | 196 |
| Burgess Hill | 352 |
| Burke | 536 |
| Cadiz | 89 |
| Caerphilly | 64 |
| Cali | 298 |
| Camberley | 197 |
| Camborne | 353 |
| Cambridge | 134 |
| Cambridge | 288 |
| Cambridge | 525 |
| Camerton | 354 |
| Cancun | 477 |
| Cannes | 339 |
| Cannock | 198 |
| Canterbury | 29 |
| Cape Town | 262 |
| Cardiff | 120 |
| Carlisle | 199 |
| Carrickfergus | 432 |
| Cartagena | 326 |
| Casablanca | 471 |
| Cascais | 68 |
| Castries | 565 |
| Cavan | 456 |
| Ceuta | 25 |
| Chalgrove | 355 |
| Charleston | 530 |
| Charlotte | 162 |
| Chatham | 356 |
| Chatham-Kent | 549 |
| Cheadle Hulme | 357 |
| Chelmsford | 74 |
| Cheltenham | 200 |
| Chertsey | 358 |
| Chesham | 359 |
| Chester | 135 |
| Chesterfield | 136 |
| Chichester | 201 |
| Chiclana de la Frontera | 30 |
| Chipiona | 555 |
| Chisinau | 476 |
| Clacton-on-Sea | 202 |
| Cluj-Napoca | 503 |
| Coimbra | 497 |
| Colchester | 53 |
| Cologne | 52 |
| Copenhagen | 178 |
| Cork | 156 |
| Costa Teguise | 324 |
| Coventry | 360 |
| Crawley | 361 |
| Crewe | 362 |
| Crewkerne | 203 |
| Croydon | 61 |
| Cuenca | 321 |
| Cwmbran | 445 |
| Dakar | 274 |
| Davie | 574 |
| Decin | 303 |
| Derby | 137 |
| Detmold | 177 |
| Didcot | 204 |
| Dodleston | 363 |
| Doha | 59 |
| Doral | 575 |
| Dorking | 104 |
| Dortmund | 312 |
| Douglas | 36 |
| Dubai | 38 |
| Dublin | 16 |
| Dumfries | 436 |
| Dunfermline | 230 |
| Durham | 364 |
| East Grinstead | 138 |
| Eastbourne | 205 |
| Edinburgh | 27 |
| El Puerto de Santa Maria | 4 |
| Ellesmere Port | 365 |
| Ely | 366 |
| Entroncamento | 542 |
| Estepona | 31 |
| Exeter | 206 |
| Exmouth | 207 |
| Fairbanks | 257 |
| Fairport | 528 |
| Farnborough | 54 |
| Fleetwood | 75 |
| Florence | 239 |
| Fonsorbes | 566 |
| Freiburg | 304 |
| Gainesville | 519 |
| Gandia | 329 |
| Gateshead | 368 |
| Gdansk | 57 |
| Geel | 277 |
| Gelnhausen | 309 |
| Geneva | 173 |
| Georgina | 550 |
| Ghent | 278 |
| Gibraltar | 1 |
| Glasgow | 21 |
| Glastonbury | 369 |
| Gloucester | 208 |
| Godalming | 105 |
| Gothenburg | 511 |
| Granada | 24 |
| Grand Canyon Village | 576 |
| Grasse | 340 |
| Gravesend | 370 |
| Grays | 209 |
| Great Malvern | 210 |
| Great Yarmouth | 76 |
| Grimsby | 371 |
| Guaruja | 544 |
| Guayaquil | 179 |
| Guelph | 170 |
| Guildford | 372 |
| Haarlem | 484 |
| Halifax | 373 |
| Hamburg | 310 |
| Hamilton | 491 |
| Hapeville | 577 |
| Harrogate | 374 |
| Hartlepool | 375 |
| Hastings | 139 |
| Havant | 376 |
| Haywards Heath | 211 |
| Helsingborg | 161 |
| Helsinki | 131 |
| Henley-on-Thames | 377 |
| Herne Bay | 378 |
| Herzliya | 84 |
| Hong Kong | 37 |
| Hoofddorp | 485 |
| Hoogeveen | 243 |
| Horley | 106 |
| Horsham | 43 |
| Hove | 379 |
| Huddersfield | 380 |
| Huelva | 319 |
| Hull | 77 |
| Huntingdon | 381 |
| Iasi | 504 |
| Indianapolis | 524 |
| Ipswich | 107 |
| Irvine | 231 |
| Jerez | 17 |
| Jerusalem | 458 |
| Kahnawake | 290 |
| Kastrup | 314 |
| Kefar Sava | 65 |
| Kettering | 382 |
| Kidderminster | 212 |
| Kilmarnock | 437 |
| Kimberley | 539 |
| King's Lynn | 383 |
| Kirchheim bei Munchen | 264 |
| Kiruna | 507 |
| Kislovodsk | 545 |
| Kloten | 295 |
| Kochi | 453 |
| Konstanz | 305 |
| Krakow | 495 |
| Kuala Lumpur | 481 |
| Kuching | 480 |
| Kungsbacka | 510 |
| La Linea de la Concepcion | 6 |
| La Rinconada | 267 |
| La Victoria | 247 |
| Laax | 292 |
| Lagos | 67 |
| Lancaster | 384 |
| Landsberg am Lech | 307 |
| Laredo | 533 |
| Larkhall | 438 |
| Las Palmas de Gran Canaria | 322 |
| Las Vegas | 164 |
| Lechlade | 385 |
| Leeds | 23 |
| Leicester | 386 |
| Leiden | 487 |
| Leon | 157 |
| L'Hospitalet de l'Infant | 556 |
| Limassol | 300 |
| Lincoln | 55 |
| Lisbon | 58 |
| Liverpool | 47 |
| Livingston | 439 |
| Ljubljana | 506 |
| Ljungby | 508 |
| Locks Heath | 387 |
| London | 2 |
| Londonderry | 117 |
| Long Stratton | 388 |
| Los Angeles | 516 |
| Los Barrios | 557 |
| Louth | 140 |
| Lowestoft | 389 |
| Loxahatchee Groves | 520 |
| Lublin | 160 |
| Lucknow | 455 |
| Lund | 255 |
| Lurgan | 153 |
| Luton | 213 |
| Lutry | 552 |
| Luxembourg City | 272 |
| Macau | 470 |
| Madrid | 12 |
| Maia | 501 |
| Maidenhead | 108 |
| Maidstone | 390 |
| Makati | 125 |
| Malaga | 5 |
| Malton | 391 |
| Manaus | 169 |
| Manchester | 35 |
| Marbella | 10 |
| Margate | 392 |
| Marlow | 214 |
| Marrakesh | 472 |
| Marseille | 341 |
| Masterton | 492 |
| Melbourne | 100 |
| Menlo Park | 45 |
| Merthyr Tydfil | 446 |
| Mexico City | 241 |
| Miami Beach | 521 |
| Middelfart | 315 |
| Middlesbrough | 109 |
| Milan | 464 |
| Milton Keynes | 215 |
| Minato | 541 |
| Mitcheldean | 216 |
| Mittenwald | 308 |
| Monaco-Ville | 475 |
| Monmouth | 235 |
| Montpellier | 333 |
| Montreal | 291 |
| Montrose | 440 |
| Morzine | 165 |
| Moscow | 253 |
| Motherwell | 232 |
| Msida | 158 |
| Muiden | 571 |
| Mumbai | 237 |
| Munich | 176 |
| Myrtle Beach | 531 |
| Naas | 457 |
| Nagano | 468 |
| Nanterre | 182 |
| Nantwich | 393 |
| Napier | 493 |
| Naples | 522 |
| Nassau | 279 |
| Neath | 447 |
| New Milton | 394 |
| New York | 97 |
| Newark-on-Trent | 141 |
| Newbury | 395 |
| Newcastle upon Tyne | 48 |
| Newcastle-under-Lyme | 396 |
| Newmarket | 397 |
| Newport | 154 |
| Newry | 433 |
| Newton Abbot | 398 |
| Newton Aycliffe | 399 |
| Newtownards | 81 |
| Nice | 184 |
| Nicosia | 301 |
| Nijkerk | 482 |
| Nis | 260 |
| Northampton | 142 |
| Norwich | 78 |
| Norwood | 40 |
| Nottingham | 110 |
| Noumea | 124 |
| Novi Sad | 537 |
| Nyon | 293 |
| Odiham | 143 |
| Oldham | 400 |
| Oliva | 558 |
| Orlando | 523 |
| Ornskoldsvik | 513 |
| Oslo | 246 |
| Osnabruck | 311 |
| Ottawa | 289 |
| Oud Gastel | 572 |
| Oundle | 217 |
| Oxford | 218 |
| Paisley | 441 |
| Palm Beach Gardens | 270 |
| Palma | 327 |
| Paris | 72 |
| Partille | 273 |
| Penarth | 448 |
| Perth | 87 |
| Petaling Jaya | 242 |
| Peterborough | 219 |
| Petworth | 401 |
| Philadelphia | 529 |
| Pilar de la Horadada | 559 |
| Plaisir | 183 |
| Playas del Chorrillo | 318 |
| Ploemeur | 332 |
| Plymouth | 111 |
| Poitiers | 337 |
| Pontassieve | 463 |
| Port Coquitlam | 286 |
| Port Talbot | 449 |
| Portadown | 434 |
| Portimao | 250 |
| Porto | 251 |
| Portsmouth | 62 |
| Poznan | 496 |
| Prague | 130 |
| Pretoria | 261 |
| Puerto Real | 268 |
| Pully | 294 |
| Quedlinburg | 313 |
| Queenstown | 494 |
| Ra'anana | 459 |
| Rabat | 473 |
| Ramat Gan | 461 |
| Ramsgate | 402 |
| Rayleigh | 403 |
| Reading | 20 |
| Recife | 283 |
| Redding | 517 |
| Redhill | 49 |
| Reigate | 144 |
| Riga | 271 |
| Rio de Janeiro | 284 |
| Rishon LeTsiyon | 460 |
| Riyadh | 254 |
| Rochdale | 404 |
| Rochester | 220 |
| Rodez | 334 |
| Rome | 465 |
| Romsey | 145 |
| Rosyth | 233 |
| Rotterdam | 488 |
| Royal Leamington Spa | 405 |
| Royal Tunbridge Wells | 146 |
| Royston | 570 |
| Rugby | 221 |
| Ruthin | 450 |
| Saint Albans | 222 |
| Saint Ives | 411 |
| Saint Julian's | 123 |
| Saint Petersburg | 505 |
| Saint-Denis | 567 |
| Saint-Jean-de-Luz | 568 |
| Saint-Quentin | 336 |
| Saint-Remy-de-Provence | 569 |
| Sale | 93 |
| Salisbury | 112 |
| Salou | 560 |
| Salzburg | 69 |
| San Cristobal de La Laguna | 181 |
| San Diego | 518 |
| San Fernando | 19 |
| San Francisco | 60 |
| San Gwann | 479 |
| San Jose | 299 |
| San Pedro de Alcantara | 561 |
| San Sebastian de los Reyes | 562 |
| Sandton | 538 |
| Sankt Andra | 543 |
| Santa Clara | 258 |
| Santa Cruz de la Sierra | 280 |
| Santa Cruz de Tenerife | 323 |
| Sao Paulo | 285 |
| Scampton | 367 |
| Schiltach | 306 |
| Seoul | 469 |
| Seville | 8 |
| Shaftesbury | 147 |
| Shanghai | 297 |
| Sheffield | 32 |
| Shepperton | 406 |
| Shinjuku | 467 |
| Shipley | 407 |
| Siesta Key | 578 |
| Silkeborg | 13 |
| Sintra | 500 |
| Sittingbourne | 94 |
| Skelmersdale | 408 |
| Ski | 547 |
| Skopje | 478 |
| Slough | 15 |
| Sodra Sandby | 509 |
| Sofia | 168 |
| Somercotes | 409 |
| South Jordan | 534 |
| Southampton | 26 |
| Southend-on-Sea | 113 |
| Southport | 114 |
| Spalding | 410 |
| Stadskanaal | 483 |
| Staines-upon-Thames | 223 |
| Stavanger | 548 |
| Staverton | 412 |
| Stevenage | 224 |
| Stirling | 442 |
| Stockholm | 51 |
| Stockport | 413 |
| Stockton-on-Tees | 414 |
| Stoke-on-Trent | 9 |
| Stowmarket | 148 |
| Strovolos | 302 |
| Stuttgart | 174 |
| Subang Jaya | 263 |
| Suceava | 252 |
| Sutton | 149 |
| Swansea | 155 |
| Sydney | 34 |
| Tallinn | 580 |
| Tampere | 330 |
| Tamworth | 225 |
| Taunton | 79 |
| Tbilisi | 451 |
| Tel Aviv-Yafo | 7 |
| Telford | 115 |
| Terrassa | 320 |
| Tetouan | 474 |
| Theale | 415 |
| Thetford | 416 |
| Thirsk | 150 |
| Thorpe-le-Soken | 417 |
| Tigard | 579 |
| Tipton | 418 |
| Toronto | 129 |
| Torquay | 56 |
| Torrevieja | 563 |
| Totton | 269 |
| Toulouse | 335 |
| Tring | 419 |
| Trowbridge | 420 |
| Tuapse | 546 |
| Turin | 240 |
| Uttoxeter | 421 |
| Valencia | 71 |
| Vancouver | 287 |
| Vasteras | 512 |
| Vaughan | 171 |
| Venice | 466 |
| Vienna | 166 |
| Vigo | 328 |
| Vilnius | 127 |
| Voorhees Township | 527 |
| Wakefield | 226 |
| Walsall | 227 |
| Walton-le-Dale | 422 |
| Warrington | 423 |
| Warsaw | 249 |
| Waterlooville | 80 |
| Watford | 50 |
| Watton | 116 |
| Wellingborough | 424 |
| Wembley | 425 |
| West Springfield | 526 |
| Westport | 238 |
| Weymouth | 426 |
| Whitstable | 427 |
| Wieringerwerf | 245 |
| Wigan | 428 |
| Witney | 228 |
| Wolverhampton | 151 |
| Wombourne | 429 |
| Woodford | 98 |
| Worcester | 430 |
| Worthing | 229 |
| Wrexham | 236 |
| Wymondham | 431 |
| Yeovil | 152 |
| York | 33 |
| Ystrad Mynach | 121 |
| Zaandam | 573 |
| Zeist | 486 |
| Zoetermeer | 489 |
| Zurich | 39 |
Contributed by Mike Nicholls