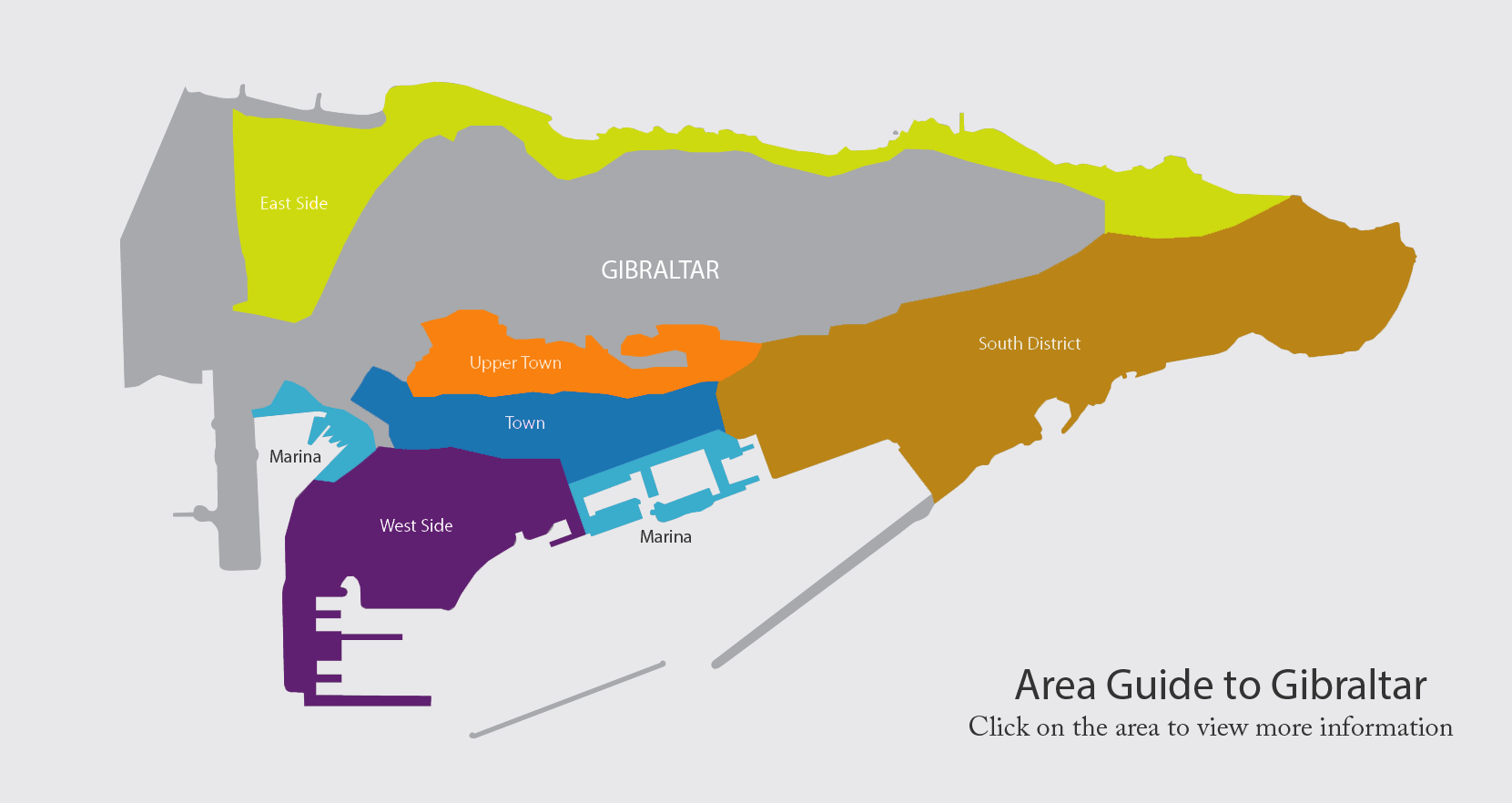 About marinas
Being a peninsular, Gibraltar is predominantly surrounded by water, making it perfect for "marina style" living.   Queensway Quay marina:  if you like fine dining, enjoying a drink, people watching or just that al fresco lifestyle, Queensway Quay marina fits the bill.  Situated on the west side of Gibraltar, the marina enjoys cool mornings and sun kissed evenings, perfect especially in the summer. Ocean Village/Marina Bay:  jammed packed with bars, restaurants, a casino and wide range of shops, Ocean Village/Marina Bay's has it all.  It offers the prefect waterside venue just a stone's throw from Town.  Here you will also find Chesterton, Gibraltar's premier estate agency – come in and say hi.
More Info
South District Area Guide
About south district
The pace of life for residents of the South district is relaxed, far from the madding crowds, although still boasts some of Gibraltar's most popular tourist attractions. For beachgoers, Camp Bay (known to locals and Rosia) and Little Bay are ideal.  With seawater swimming pools and easy bathing access, along with restaurants and kiosks, the day can easily be spent there unwinding.  Europa Point is the most southerly point of Gibraltar and is where the Atlantic meets the Mediterranean (the "Strait of Gibraltar").  Boasting stunning views across to Africa, this is where you will find the Trinity Lighthouse, the Sikorski Memorial, Harding's Battery, Shrine of our Lady of Europe and The Mosque. The Alameda Botanical Gardens offer a little bit of serenity and greenery.  Established in 1816, the gardens home stunning flora and fauna, including rare and indigenous plant species.  They also boast an outdoor theatre, guided tours and, if you're feeling romantic, a perfect venue for your wedding.  Adjacent to these gardens is the Cable Car.  Built in 1966, the cable cars travel up the Rock at a speed of 5 metres per second, making the overall travel time approximately six minutes. Military history is never far away.  Parson's Lodge fortress was perhaps one the most strategically important places in Gibraltar due to its position over Rosia Bay (which, was also the Bay that Nelson's body was brought ashore on The Victory).  Lovingly restored, the fortress is a must for any military enthusiast.  Similarly, the 100 Ton Gun at Napier of Magdala Battery is a treat for anyone interested in military weapons.  The Trafalgar Cemetery holds the remains of those killed in sea battles, most notably those of the battle of Trafalgar.
More Info
About west side
The west side of Gibraltar has a more metropolis feel to it.  Here you will find some of the major government offices, companies, the hospital, one of the largest of the supermarkets in Gibraltar along with a spa / gym.  You can also find a selection of café's, bars and shops.  It is also the hub of Gibraltar's newest property developments.  It also boasts a spectacular promenade looking over the Bay of Gibraltar.
More Info
About east side
The East side of Gibraltar brings a welcome change from the hustle and bustle of Town.  With three sandy beaches to choose from, Sandy Bay, Eastern Beach and Catalan Bay, it's a dream for the beach lover.  Catalan Bay started life as a fishing village and, despite some modernisation, still has this authentic feel with a small selection of bars and restaurants including La Mamela, one of the finest fish restaurants in Gibraltar.  The iconic Caleta Hotel situated at the far end of Catalan Bay, boasts magnificent views over the beach and out onto the Mediterranean Sea.  A treat for any visitor wanting to relax and unwind.  Sandy Bay has been recently restored to its former glory boasting a stunning golden sandy beach.  Eastern Beach is a long stretch of sandy beach closest to the runway enjoyed by locals and visitors alike.  The East Side also hosts warehouses and semi-industrial units away from the beaches.  This side of Gibraltar benefits from day time sun and cooler nights.
More Info
About town
Gibraltar is a welcome home from home for any UK epxat or traveller and a "little slice of England" for anyone coming from further afield.  It offers UK high-street shops as well as smaller boutiques, perfumeries, IT and gadget shops and a range of delights for any keen shopper. For anyone wanting more than shops, the Gibraltar Museum is a treat – filled to the brim with artefacts, models, displays and even the odd Mummie or two! There's also plenty to keep you entertained including an ice skating rink, two cinemas screens, ten pin bowling lanes, an amusement arcade, restaurants and bars and a gym all housed in King's Bastion Leisure Centre, a lovingly restored military fortress that was once used to defend Gibraltar against invading forces during the 18th century. For worship, tranquillity or reflectiveness, visit Kings Chapel, St Andrews Church, Holy Trinity Cathedral, The Great Synagogue and the Flemish Synagogue or Catholic Cathedral of St Mary the Crowned.
More Info
About upper town
Gibraltar is steeped in history, culture and diversity – did you know the skull of a Neanderthal woman was discovered here in 1848 and was only the second Neanderthal skull ever found and the first adult Neanderthal skull to be discovered, eight years before the discovery of the skull for which the species was named in Neanderthal!  The upper town offers a treat for anyone wanting to learn more about Gibraltar's history or just explore the Rock.  Including St Michael's Cave, the Moorish Castle, the Great Siege Tunnels & WWII tunnels, Princess Caroline's Battery and, of course, not forgetting the Apes Den.
More Info
About queensway
Queensway is situated to the west of the city, and, running North to South, skirts the actual town and leads from Montagu, passing Bayside Girls Comprehensive School, The Leisure Centre, Midtown, Kings Wharf and ending at Queensway Quay . The Commonwealth Park. an oasis of calm amidst the hustle and bustle, is well worth a visit. The Queensway Marina is located in the middle of the Gibraltar Harbour
More Info
About ocean village
The Ocean Village marinas have become Gibraltar's prime destination for yachts and super yachts, and boasts a large range of restaurants. Very close to the city centre, Ocean Village is a great place for entertainment and living. The Ocean Village developments have access to the most impressive pools and jacuzzis in Gibraltar, plus a great casino and Gibraltar's only 5 Star hotel, the Sunborn.
More Info
How can we help?
Chestertons is the premier property consultants and estate agents in Gibraltar.