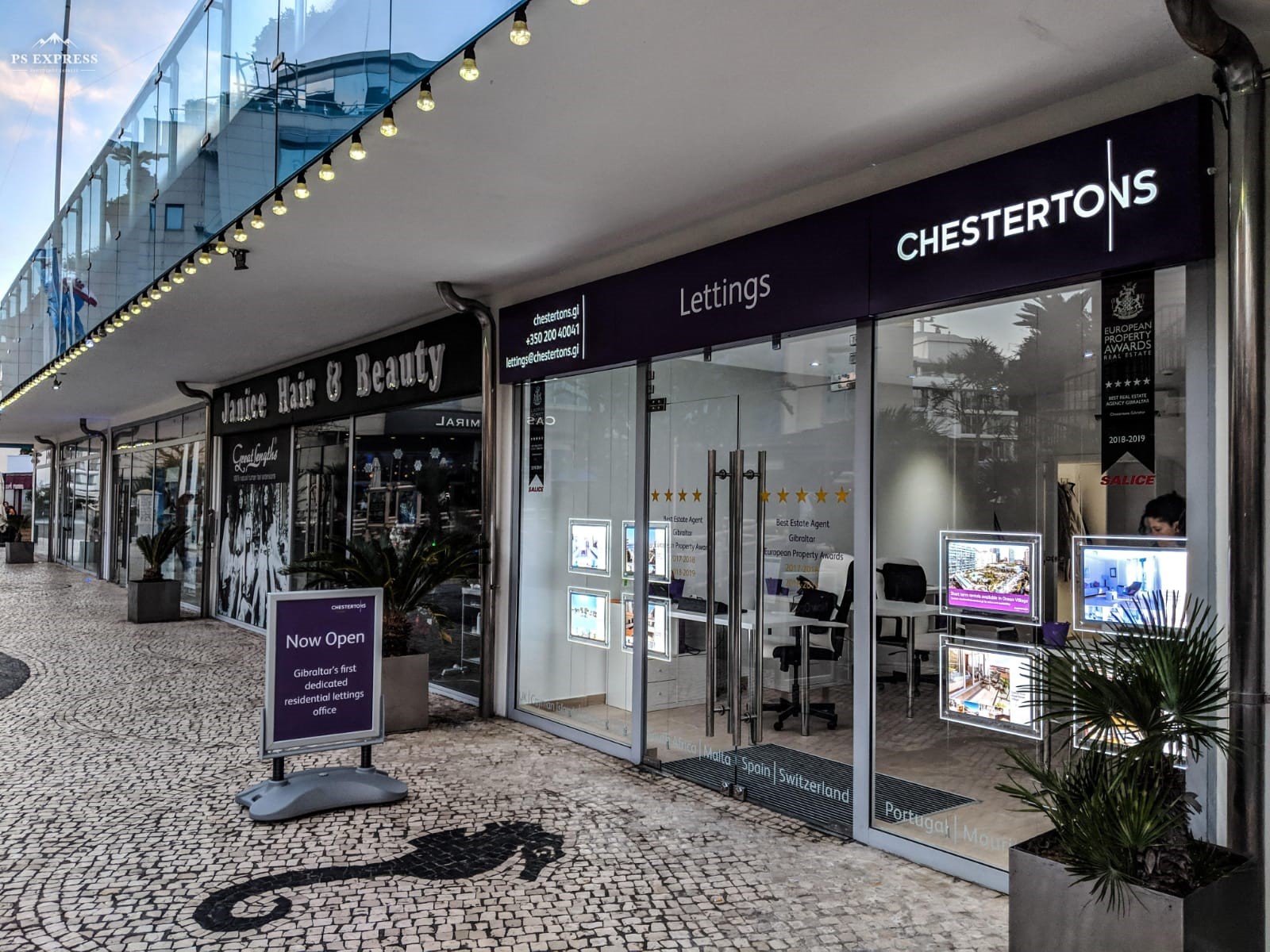 Chestertons has opened a second office in Ocean Village which will concentrate exclusively on residential lettings in Gibraltar. We spoke with CEO Mike Nicholls as to what was behind this exciting development.
Why expand now given the Brexit uncertainty?
The residential lettings market and our share of the residential lettings market have both increased in size in the last twelve months and we expect both growth curves to continue. To understand why the market is likely to expand further, one has to look at the supply (properties, landlords) and the demand (new tenants).
In the next few months, Ocean Spa Plaza, Imperial Ocean Plaza and Clemence Suites will be ready for occupation after 2-3 year builds. That's 300 new properties. Later this year, Midtown will follow with the completion of its first phases of residential apartments and possibly Quay 29 before the year is out. Another 200 properties. We estimate one third of these additional 500 properties forecast to complete in 2019 will be rented out.
In terms of the tenant pool, we know that 6,000 – 7,000 non-Spanish employees of Gibraltar businesses cross the border from Spain each day to work. Many of those would relish the opportunity to live in Gibraltar if the right property at the right price was available. We also know that in the last few years, Gibraltar has been trading at near full employment yet creating 500-800 new jobs per annum hence these jobs are being filled by imported labour. In the last few years, only 93 apartments in West One have been added to the open market property market (other than smaller refurbishments here and there), which equates to around just 35 new residential properties available to let, when Gibraltar has needed hundreds.
So Brexit isn't dampening your enthusiasm?
Uncertainty dampens my enthusiasm, Brexit doesn't. As I see it, we either stay in the EU (business as normal, good outcome for the property market which has pent up demand), leave the EU with a hard exit (huge potential in respect of non-EU business models, exclusive access to the UK market attractive to other EU nations, uncertainty at the border which will encourage many of the 6,000 – 7,000 to move in) or we leave with May's managed exit which seems to have little popularity in the UK, but which will see a smooth transition to something, just not quite sure what. This smooth transition could last years and would have uncertainty attached but equally, no great shocks. Whatever the outcome of May's plan, employees are better off living in Gibraltar from an administrative, fiscal and logistical point of view and also, in my opinion, from a lifestyle point of view, although I know some are very happy living in Spain.
We opened Chestertons Gibraltar during the world economic banking crisis in 2008. We rebranded and expanded in 2016 two days before the EU referendum. Both have been good decisions. We expand again now as the Brexit debate reaches its final few weeks before 29 March 2019, the day of departure. We believe it will serve to be another right decision.
Is there any proof to support your property enthusiasm?
We have started renting properties in Clemence Suites and Ocean Spa Plaza even before they have been completed. So without any viewings or photos of what the apartment will look like at completion, without certainty of a moving in date, tenants have signed up. 25 square metre studios in West One are now at £1,100 pcm such is the demand. The level of rental enquiries continues unabated.
Enquiries and website statistics are on the increase from outside of Gibraltar. The number of new users on our website increased by 5% in 2018 over 2017 and that's in a year full of bumps and grazes from a political perspective. Scratch the surface and a pattern emerges, the number of new website users from UK were 20% up, Spain 5% up, USA 36% up, France 76% up, Germany 13% up, Ireland 35% up and Portugal 10% up. Gibraltar usage was down, suggesting those who have a place are staying put and not looking. Whereas the number of new website users from all our main incoming markets were up.
Why has Chestertons' market share increased?
I believe that our thorough, professional, and progressive processes are welcomed by both landlords and tenants alike. Tenant deposits are poorly regulated in Gibraltar and often the tenant or landlord is at the mercy of the agent who has limited procedures to follow. Inventories in Gibraltar are often a scrappy list of poorly described items and the agent's knowledge of betterment, wear & tear and the general rules of what items may be legitimately charged against a tenant deposit are poor.
At Chestertons we pride ourselves on a most extensive photographic inventory using specialised industry software. Our staff are trained to follow strict check-in and check-out processes, supported by clearly defined policies which ensure the landlord and tenant are well aware of their roles and responsibilities at the end of each tenancy period. The safety of the tenant deposit is of huge importance to our tenants and landlords, and they prefer this security over the lottery faced elsewhere.
On top of these operational reasons, we have the longest opening hours of any estate agency in Gibraltar, more staff than any other estate agency in Gibraltar and we would say, the best marketing of any estate agency in Gibraltar. Oh, and we won best estate agency in Gibraltar in 2018-19 and 2017-18 in the European Property Awards held in London.
How will the Lettings office work operationally?
The two offices are connected from a communication perspective, so it's the same telephone number then '1' for sales and '2' for lettings, same server, same email addresses, same website, and same warm welcome, whichever office you visit. We are only 20 metres apart in Ocean Village so I am sure that there will be much foot traffic between the two offices.
When do you open?
The official opening will be a little later this month, however, we are ahead of schedule and other than some graphics, a missing cupboard door and missing desk, we have moved in early! Opening hours are 9am to 6pm Monday to Friday. On Saturdays we will open our existing sales office as usual and deal with both sales and lettings from there.
All enquiries for lettings lettings@chestertons.gi or +350 200 40041
Contributed by Mike Nicholls