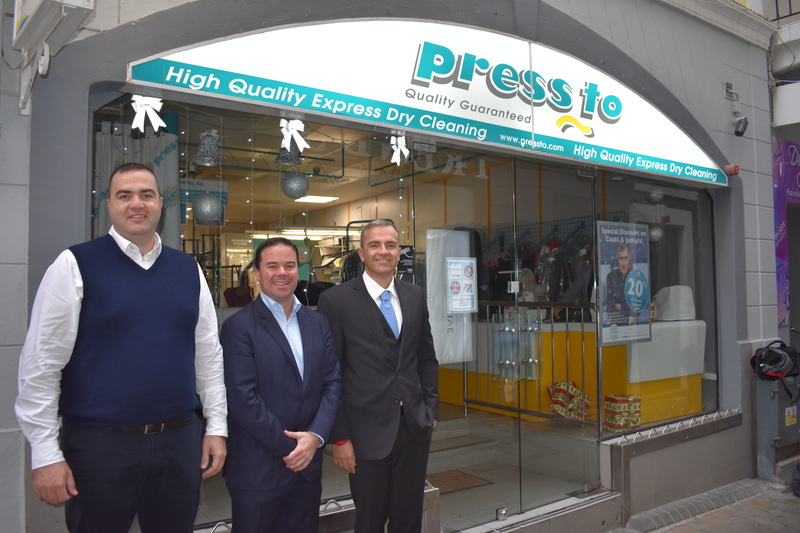 The developers of E1, the hotel styled residential development has agreed terms with the operator of dry cleaning and laundry provider Pressto to open a unit within E1.
Pressto is Gibraltar's quality express dry cleaning and laundry service, already operating from the town centre (Tuckey's Lane) and Eroski. This announcement takes Pressto to the East Side into Devil's Tower Road's flagship residential development E1.
E1 is a development of 174 deluxe and presidential apartments in Devil's Tower Road which achieved planning consent in September 2018. With over 110 units already reserved, E1 features a number of hotel style 'in room' services, including Pressto's dry cleaning services, a dining experience plus the E1 Wellness Spa and Health Club which will offer a five star hotel style spa experience with indoor pool, gym, sauna, steam room and treatment rooms.
John Paul Risso, Managing Director of the Imperial group of companies which includes the Pressto brand in Gibraltar stated "I am delighted to have agreed terms to operate a new Pressto outlet from E1. The unit will serve the hundreds of new occupants set to move into Gibraltar's fastest growing residential area. Plus it is exciting to be involved in the E1 concept which will attract a multitude of short and long term tenants seeking dry cleaning services on their doorstep, indeed, even room service".
Peter Cabezutto, director of the development company endorsed the message "We want to attract the best in class providers as operators of each of our services at E1. We have achieved that in attracting John Paul and his Pressto team to E1. This adds to our recent announcement of agreeing terms with Mike Balfour OBE who heads up the Ocean Village, Atlantic Suites and Sunborn Gyms to operate our E1 Wellness Spa and Health Club. We expect to make further strategic announcements soon."
Chestertons is exclusively handling the sales of E1 apartments which went on public sale on 30 October 2018. Over 110 apartments have been sold or reserved. Prices start at £142,000, with most apartments below stamp duty levels and rental income tax breaks available for landlords.
Contributed by Mike Nicholls