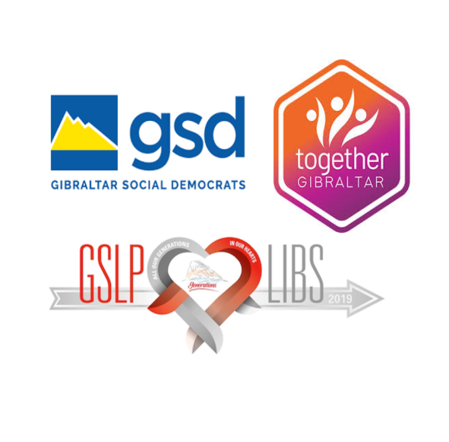 What the manifestos say about property
Gibraltar elects on Thursday 17 October 2019. Three parties of ten candidates each plus two independents go into battle to secure your ten votes.
So what do the manifestos of the three main parties offer property investors, tenants, owner occupiers and those wishing to become an owner occupier but perhaps struggling?
There are effectively three property markets in Gibraltar. Firstly the 'open market', which anyone can purchase or anyone can occupy (subject to visa requirements if outside the EU), then the properties built by government, sold at not much more than build cost and sold to those who have held a Gibraltar residency card for three years (often on a 50/50 basis) and then finally, government owned property only sold or rented to residents who are on the housing list.
Chestertons' main focus is on the open market albeit the supply of government properties sold or rented will always have an impact on the open market.
Here we set out what we consider the main policies for our clients:

A green Gibraltar
All parties are going green and jostling for the green vote, a new approach to property development with an increasing focus on carbon neutrality and green aesthetics.
Queensway Quay development
All parties say they will not allow development of the Queensway Quay marina, the proposed development which includes a hotel in the middle of the marina and which has received much negative publicity in recent months.
Government housing
There is a general feeling that government housing should be for those who need it most and allocation needs a re-think. All parties commit to providing more government housing for Gibraltarians, rental and 50/50 affordable. However, none of the parties set out how they will fund their building programmes, so they represent a wish list without any economic basis in my view.
Means testing
GSD and Together Gibraltar support means testing in the allocation of properties in the social housing sector.
Stamp duty
GSD want to increase the stamp duty threshold to £350,000 (from £250,000) for first time buyers. Otherwise no changes to stamp duty are proposed by any party.
Wealth tax
Together Gibraltar want to break rank with a 'finance centre' tradition of no wealth tax. They propose a 2% annual tax on second homes (wherever in the world) valued above £1m if the property is not rented. This will impact the wealthier Gibraltarians who have second homes in, for example, Sotogrande, or London, as well as high net worth individuals who have moved to Gibraltar over the years but kept their property in their home city or have purchased a holiday home somewhere in the rest of the world. It might prevent future inward investment if the incoming individual does not want to pay an additional £20,000 per annum (minimum). How it would work in practice (many investment properties are held via company structures or via the spouse for example) is difficult to tell. Enforcement might also be problematic (unless draconian penalties are imposed for non-compliance like Spain adopts with its wealth tax returns). On the flip side, an individual could escape this new wealth tax by investing the equivalent of the property value into a new Enterprise Initiative Scheme to be set up by Together Gibraltar. Cat 2 and HEPSS individuals are excluded from this proposed wealth tax.
Other taxes
The GSD is proposing a tax relief for homeowners on the allowance system (broadly those earning £25,000 or less) capped at £1,000 per annum in respect of service charges on residential property. No party is proposing any other changes in tax which would impact property related investment or ownership activity.
Tax Agreement with Spain
GSD wants to repeal it (albeit it has yet to be ratified anyway).
Modular construction
The GSLP promises to establish a modular construction factory outside the EU which they will use to supply kitchen and bathroom pods within Gibraltar and also offer elsewhere on a commercial basis. The desire for greater control over the supply chain is understandable. There is an element of risk, however, of using taxpayer money to establish a business outside of the EU, where there may be minimal knowledge of local labour markets, property markets and supply chains, in the anticipation of future profit. An interesting policy to follow if enacted.
Below we set out the notable policies from each of the manifestos in relation to property. However, before voting, there is nothing better than reading the manifestos themselves and deciding how best to use your 10 votes for the best future of Gibraltar.

GSD property policies in summary
Open market development
• End piecemeal haphazard development, bad planning and act to curb harmful effects on the environment.
• GSD 2050 – a 30 year strategic plan for planning and development, so that there is a long term vision for a sustainable environmental and economic future.
• No further development of the Queensway Quay basin.
• A phased plan to regenerate the Dockyard from the old North Gate to the Southern end of Rosia.
• A review of the Victoria Keys development and publication of all contractual arrangements entered into by the GSLP Government.
• A Catalan Bay Village regeneration scheme.
• An Eastside Village scheme to sensitively develop the Eastside with zones for mixed use – residential and commercial.
• Increase the stamp duty threshold to £350,000 for first time buyers.
• Request termination of the Tax Treaty with Spain.
Social Housing
• A fair deal on housing that makes sure that people on lower incomes or who cannot afford to buy or with particular social or medical needs are given priority to rental accommodation.
• A housing list to buy and a housing list to rent. Getting on the list to rent will depend on a person being below a certain minimum income. We will consult on the qualifying amount. This eligibility requirement will make sure that we target rental housing for those who cannot afford to buy. Persons on the current housing lists will be protected as this policy will only apply to new entrants.
• Review of the eligibility criteria for the allocation of housing to ensure that priority is given to persons with social and medical needs. Central among this will be a policy of means testing so that persons on low income are given higher priority when public housing is allocated.
• More housing for rent. We are committed to building 500 new homes some of which will specifically targeted for single people, for young families, single parents and for young people wishing to flat share.
• Completion of all housing projects that are inherited from the GSLP in respect of which there are existing contractual commitments that may have been commenced by the time we are elected to Government.
• Audit of public and private housing stock and relate it to the needs of our community so we better manage our housing demands for the next 10-20 years. There is a major need for 1RKB [sic] (one room, kitchen and bathroom) and 1 and 2 bedroom housing and we will specifically plan to cater for these in any new developments.
• Following the audit of public housing we will conduct a program of sales or refurbishments of Government properties in the old town.
• Ensure recovery of rent arrears, so they are not allowed to build up

GSLP / Liberal Alliance property policies in summary
• Work on a new Gibraltar Development Plan
Open market development
• A thorough review of the regime of the rental housing market specifically in the rent controlled (predominantly pre-war) sector, also bearing in mind the needs of tenants, and in consultation with all relevant stakeholders.
• If we are unable to agree terms with GibDock, we propose a redevelopment of the dockyard. There will be a mix of rental housing, affordable housing, luxury housing and it will include office and other commercial property. The old docks will be maintained. The area will be lush with greenery. We propose the possibility of including additional cruise liner berths.
• Development of the Eastside as different plots for low rise developments. Hassans Centenary Terraces will be the highest rise on the site, with everything else tapering down in height from there to create the village feel towards Catalan Bay Village.
• Publication of all details of Government arrangements with the developers in respect of Victoria Keys as soon as these are entirely finalised.
• Continue negotiations on the Rooke site (site in between Mid-Harbours and Kings Bastion) with London based developers which includes a mix of offices and affordable homes, as well as potential rental housing for the elderly. This will not be a high rise development and it will include a new fire station and a new police station. The development will also include large areas of accessible, green public realm which will dovetail to Midtown Park and Commonwealth Park, linking walkways and pedestrian arteries.
• Protection of the Mount grounds, including the gardens and the woodland, and its buildings and the development of this space as a community area.
Social Housing
• Developing housing for rental is best done for the elderly.
• Build more affordable housing for sale on a 50/50 basis. This is the most important sector of the market and we will build more 50/50 homes for our young people in particular.
• Build between 300 and 500 units for rental. This combination of property developments – alongside more affordable housing for 50/50 sale - will enable us to finally deal with the delays in the housing waiting list.
• A ten year plan to ensure that all estates that have not yet been refurbished are brought up to standard and this will happen in a planned and organised way.
• New policy to state that after thirty years of the first conveyance of affordable properties, the resale restrictions in the underlease should no longer apply so long as the party selling has owned the property for at least ten years before the sale is effected.
• Develop affordable properties for purchase by the elderly. The sale will be restricted to registered Gibraltarians (British Citizens resident for more than 10 years are eligible to register) over the age of 60 who have bought in affordable housing estates developed by the Government. The properties will be sold at cost. The resale value will be fixed by lease and by law at inflation from the date of purchase. Resales will only be possible to people of similar eligibility.
• Develop the site of the old Queen's Cinema and the Queen's Hotel. This site will include affordable housing for 50/50 sales and rental housing for pensioners.
• Using modular construction, provide a further 1500 affordable homes.

Together Gibraltar property policies in summary
Open market development
• Develop a broader range of tenure and landlord types to facilitate greater choice of homes for our community, including creating the means to set up non-governmental, non-profit social housing landlords that will also provide affordable homes for our community. (is this copying the housing association structure from the UK?).
• Use tax incentives, the rates system and subsidies to encourage land and property owners to release new homes into the housing stock; we will also use these mechanisms to encourage property owners to let their empty properties swiftly and in good condition.
• Ensure buildings are not neglected by requiring owners to undertake refurbishment works or sell to Government, or else risk having the property demolished.
• Better control the rate and quality of construction by undertaking a review of the Development and Planning Commission (DPC). The existing structures of the DPC will be reviewed for effectiveness.
• Residents will be given a greater opportunity to contribute to the planning process; proposals will be made available for review by those most impacted, and proposals over a certain size would be subject to public consultation.
Social Housing
• Increase the supply of decent housing at a much broader range of prices so that more people find it easier to rent or buy a home. We will do this through government building and renovation projects as well as working with the private sector and new social housing sector landlords.
• Phase out over time pre-war rent controls with sensitivity to the needs of sitting tenants.
• Ensure that government housing is managed and maintained effectively and with utmost efficiency, the service fully accountable and transparent. This includes ensuring that rents are paid, properties are not sublet or left vacant, succession rights are regulated and that tenancy conditions are met and enforced.
• Rework the housing allocation system so that the most effective use is made of government owned housing to meet the needs of the most vulnerable by using robust assessment processes, applying coherent eligibility criteria which will include means testing.
• Publish the register of all properties owned by the government, thus allowing the public to hold Government to account on lack of maintenance of these properties

Read the manifestos:
Contributed by Mike Nicholls