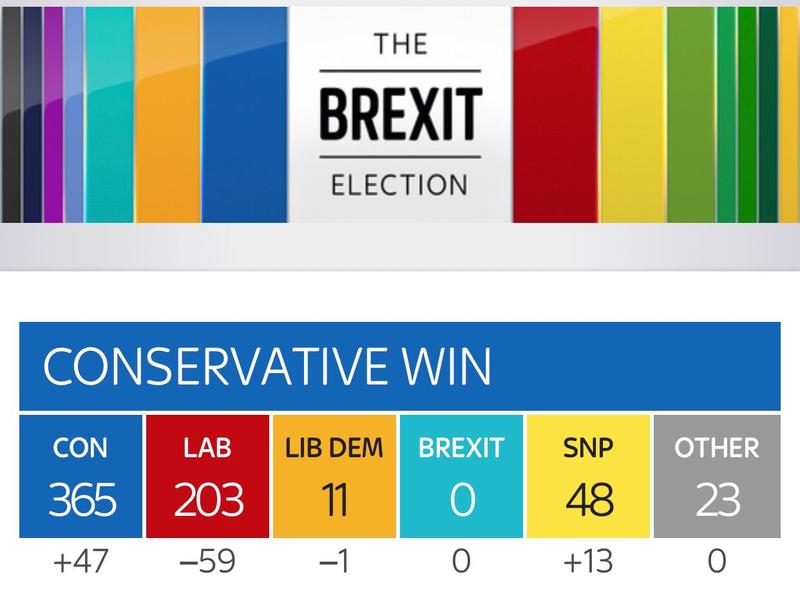 Uncertainty is the enemy of investment. We've just had over three years of political in / out uncertainty courtesy of the UK. And now with Boris Johnson's thumping 80 seat win last Thursday on a mandate to 'Get Brexit Done' those delayed investment decisions could be unleashed. But how might that significant general election result impact Gibraltar's property market?
Firstly and interestingly, I am pleased to report that on the first proper working day since the result of the UK election, we have seen an immediate increase in activity, being dubbed the 'Boris Bounce', this positive impact has resulted in an increase in offers, a possible part exchange, a lift in viewings, a number of agreed rentals and even a bidding match on one property. This is unusual. At this time of year we would normally expect to be quieter as people wind down and enjoy the festive build up.
Secondly, I think many will be relieved that Jeremy Corbyn is not moving in to 10 Downing Street bringing many more months of Brexit uncertainty. Plus, in recent times, Labour has proven to be untrustworthy when it comes to the question of Gibraltar (he was reportedly willing to enter power sharing discussions with the Argentinian government over the Falklands). And Corbyn would not support our tax system which attracts companies to Gibraltar and encourages personal wealth creation and wealth preservation. It is this fiscal system that has helped to fund so many of the fantastic public services we enjoy in Gibraltar.

We were staunchly 'remain' in Gibraltar but the remain vote in England dissipated at this UK election as voters shunned the LibDems. So Boris it is and Boris who will "get Brexit done'" and instead of wallowing in self-pity, I believe that we in Gibraltar should and can look to seize the inevitable opportunities which lie ahead.
Already since the election the pound and shares have surged, with the pound above €1.20 reaching its highest level since the time of the referendum. This is good news for the 14,000 workers who live in Spain and work in Gibraltar, good news for consumers who shop in Spain and good news for developers and contractors who source virtually all of their building materials from 'euroland'. FTSE indexes also soared on Friday with the FTSE 250 (predominantly UK based companies) reaching a new high.

Whilst there is still work to be done in negotiating a trade deal with the EU, we have a degree of certainty now on the course ahead. Plus we have a UK government with a huge majority which is pro-Gibraltar and should have the necessary muscle to ensure that Gibraltar is not used as a bargaining chip despite the Spanish veto that was granted under Theresa May.
The EU has federalists in high places with erosion of sovereignty and tax harmonisation amongst the inevitable consequences at some stage in the future if it keeps to its current trajectory. Such a future would have been challenging for Gibraltar. Although border fluidity issue was a key reason for Gibraltar to remain within the EU, one day we may have wanted to leave by our own free will. Regardless, we have avoided a no deal which could have been damaging and now face a softer Brexit with the backing of the vast majority of MPs and already agreed with the EU. There should be fewer shocks along the way than we have faced in the last few years. Scaremongering will be replaced by certainty. Businesses can work with certainty.
Gibraltar already has assurances from the UK that we will have a free trade agreement with the UK. So c 90% of our business abroad is not at risk.
I am convinced that the EU will want to trade with the UK with limited impairments in terms of red tape and tariffs. As we only export 'services' we may not be overly impacted. But if we are, there will be companies in Malta (and other EU countries) that trade with the UK who may need a Gibraltar business base. The trade deal is yet to be negotiated but I am optimistic that it will not damage Gibraltar.

In a typically robust statement to Gibraltar's parliament this afternoon, Chief Minister Fabian Picardo confirmed the position of what could happen if we do not like the resulting free trade agreement: "That new trading relationship may not include anything of interest to us on the benefit side of the equation and many obligations on the liability side of the equation. We must be clear in understanding that we will need to be involved from the beginning but ready to walk away in the end if the balance of rights and obligations is bad for Gibraltar businesses and bad for the people of Gibraltar. We must hold our nerve and be ready to do a great deal for Gibraltar. We must hold our nerve and be ready to walk away from a bad deal for Gibraltar. In this instance, more than in relation to the withdrawal arrangements, Mr Speaker, no deal with the EU may be better than a bad deal."
The most important component of the negotiation for Gibraltar has always been and remains border fluidity. We will need our workers and tourists to be able to cross the border with minimum checks. We are already outside of the Customs Union in terms of products. The border is where the key risk is for Gibraltar. However, I do believe that the negotiations in Boris' hands, with the majority he has, minimises the risk that Spain will be able to force through rules which appreciably change the status quo. Neither the EU or the UK will want Spain's domestic agenda impacting matters of wider importance to the other 26 EU countries.

Since the referendum, despite the uncertainty, the property market in Gibraltar has remained robust. Scratching the surface and we find a bullish residential property market and a static commercial property market. The tax treaty with Spain has encouraged more people to move in. Now with a fiercely pro-British prime minister and a clearer path ahead politically, uncertainty should ease. New trade agreements will emerge and Gibraltar has a fantastic track record at seizing new opportunities from changing political landscapes.
The shortage of available property in Gibraltar for those not qualifying for local housing was a key concern at the time of the referendum, which prompted the government to offer tax incentives to investors to buy off-plan property and push the production line. The recent completions of Clemence Suites, Imperial Ocean Plaza, Ocean Spa Plaza and Quay 29 will temporarily relieve some of the shortage. We now welcome EuroCity, the Hub, Sylvian Suites and E1 amongst others to further assist those wishing to move in to Gibraltar. Now could be a good time to buy whilst the supply is there.

The path ahead remains uncertain, but the path is known, Gibraltar will be leaving the EU. Gibraltar will be the most fiscally attractive location for companies selling services into the UK. Gibraltar's tax structure will not be threatened to the extent possible under Corbyn or EU interference. Gibraltar can thrive.

With this backdrop, confidence returns and companies who have held back investment decisions, held back expansion plans, will now start to implement their plans. Expect increased interest from Malta. Expect more of the Spanish based employees of Gibraltar companies to move into Gibraltar.

Given the Corbyn / Johnson / hung parliament option, it is my opinion that this was, realistically, the best UK election result for Gibraltar. The result helps to bring the long period of Brexit uncertainty to a foreseeable end. It provides us with a period of trade agreement negotiations and a workable vision for the future outside of the EU and a confidence in the future of Britain and its territories.

Confidence and certainty will return.


Footnote

The financial markets have already given their approval. Here is how the UK Property Daily – "Property Eye" reported the impact of the Boris Bounce (as they called it) which quotes a report from Exane BNP Paribas following the election which states that the most significant factor is likely to be an improved demand for housing as consumers resume major purchases:

"On Friday's election results day, Rightmove shares were among those which swung upward. Rightmove's shares touched a high of 660p but ended the day about 4% up at 641p.

Savills shares soared 13.5% to end the day at 1,152p, having reached higher still at 1,186p.

Foxtons shares went up to over 92p before settling at about 86p, a rise of over 5% during the day.

Countrywide's shares rose 7% to 6p.

LSL, parent company to brands including Your Move, Reeds Rains and Marsh & Parsons, saw its shares rise 3% to 275p, having at one stage touched 285p.

Belvoir prices were up by almost 9% to 139p.

Shares in The Property Franchise Group ended at about 198p, an all-time high.

Purplebricks shares also did well on Friday, gaining almost 10% to close at 115p. There was heavy trading, with two trades of 2,113,921 shares at 112p, below."

Image credit: Sky News
Contributed by Mike Nicholls