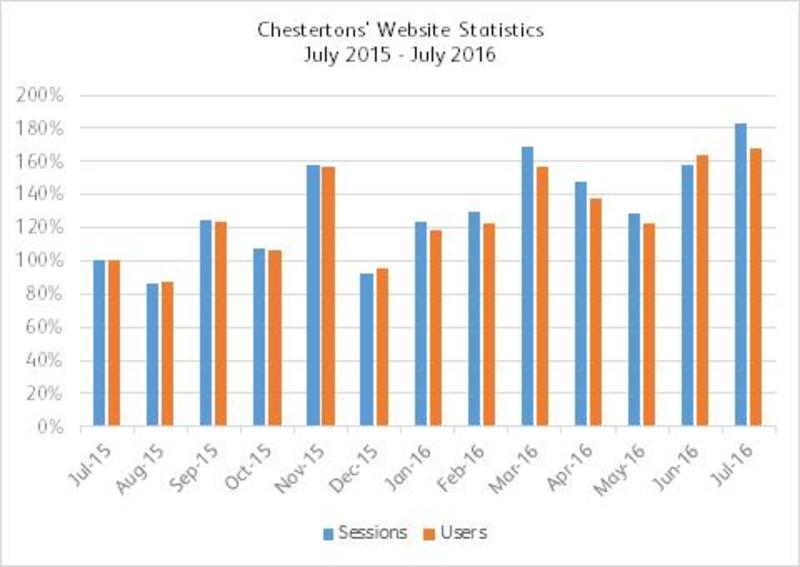 The vote to leave the European Union has not affected demand for residential property in Gibraltar based on Chestertons' experience thus far. Indeed, we are currently witnessing client activity at above normal seasonal levels. This statement is not only borne out by the number of offers, exchanges and completions we have managed in July (some of which come from pre-referendum activity) but from our record July 2016 website statistics which are a good indicator of property activity in the weeks and months ahead.
July 2016 saw the highest number of users visit the Chestertons Gibraltar website in any month since our records began seven years ago. This was also reflected in the number of sessions these users had on our site in the month, another record high. The graph below shows the comparable number of users (orange) and sessions (blue) each month as compared to July 2015. We do not give actual numbers (as these are commercially sensitive) so have shown July 2015 as 100% and compared the following 12 months against that benchmark.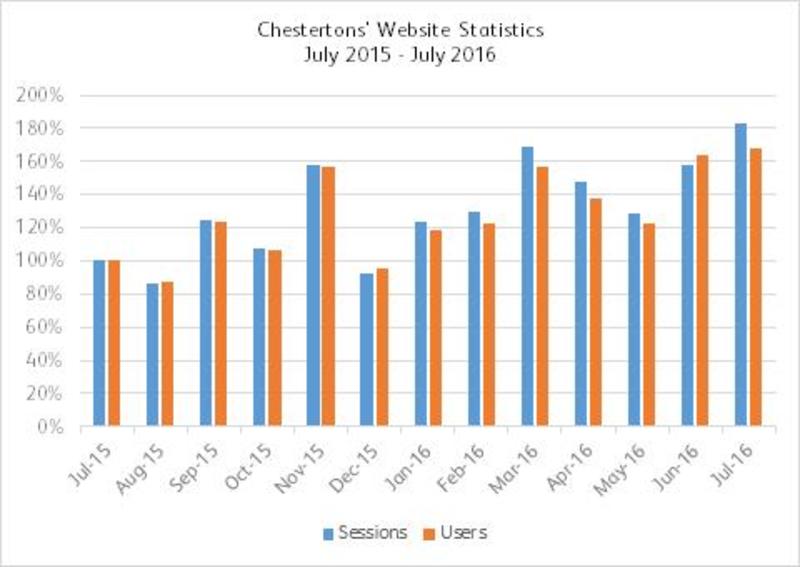 To be 83% (sessions) and 68% (users) higher than the corresponding month last year (July 2015) is most likely both an indication of the confidence in the Gibraltar residential market shown post referendum and Chestertons' own continued growth in market share during the last 13 months. Furthermore, in July 2015 we launched the West One development, which made the comparable period a busy month for us. We are also 42% (sessions) and 38% (users) ahead of May 2016, the last complete month before the referendum. A contributing factor may also be the frequency with which we issued our newsletters post referendum.
Confidence pays a major part in people's decision to purchase property. And the confidence in the Gibraltar property market is still there it would seem, boosted by the on-going excess demand in the property market, the Boris Johnson letter, and the two new tax incentives: 0% corporation tax and tax free earnings on new buy to lets.
Contributed by Mike Nicholls