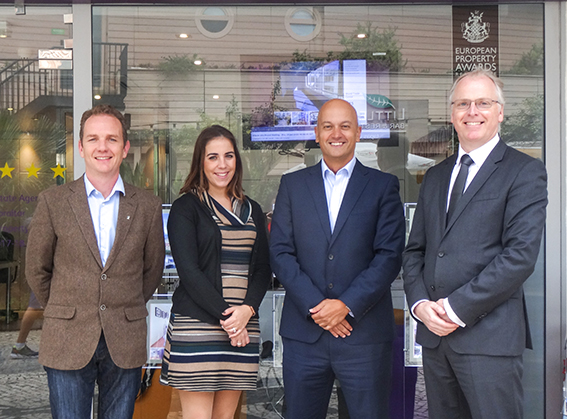 Chestertons has become the first estate agent to market a property in Gibraltar in Bitcoin.
This follows an increasing trend amongst property vendors and purchasers to want to transact property transfers in the cryptocurrency.
The vendor of this 26 square metre office in the World Trade Center, approached Chestertons to test their appetite to attract a buyer in Bitcoin.
"We knew that the high levels of interest in cryptocurrency would spill over into the Gibraltar property market sooner rather than later" said Mike Nicholls, managing director of Chestertons Gibraltar. "We wanted to lead the industry and were already in discussions with specialist fintech legal firm Ramparts, who are particularly strong in the crypto space and Xapo, the world's largest and safest Bitcoin custodian and who are based in Gibraltar. My ethos is that as a business we should never stop innovating, improving and learning. This process has already been quite a learning curve and we haven't even sold the property yet!"
Colleene Wink, conveyancing lawyer at Ramparts said that there were many considerations beyond the marketing in a new currency. "We have to ensure that both buyer and seller can transact through a secure process, which is normally via a bank but in this case will be using blockchain. We have agreed to accept our fees in Bitcoin as have Chestertons."
The volatility of Bitcoin has meant two unique factors have been considered. Firstly there is a live Bitcoin / GBP exchange rate displayed in Chestertons' window adjacent to the advertised property and secondly, the buyer will need to exchange and complete on the property at the same time. Otherwise, the rules of the conveyance are much the same as a standard transaction.
Xapo director, Seamus Rocca, stated that once a purchaser has been identified, they will undertake the required due diligence to verify the Bitcoin source. He told us, "We will host a meeting with both the buyer's and seller's legal representatives to ensure all parties are comfortable with the process for transferring value. Once we have undertaken a few transactions, interest in transacting in crypto will grow exponentially, as it has done in other jurisdictions."
Peter Howitt, director of Ramparts stated, "Gibraltar is working hard to be the leading reputable and regulated jurisdiction for the crypto and distributed ledger technology sectors. This is another example of Gibraltar taking the lead in this space."
Footnote added 27 February 2018. We did receive an offer of 20 Bitcoins for the property which would have been interesting to have managed through to completion, however, we also received a full asking price offer in GBP which has been accepted.
Contributed by Mike Nicholls