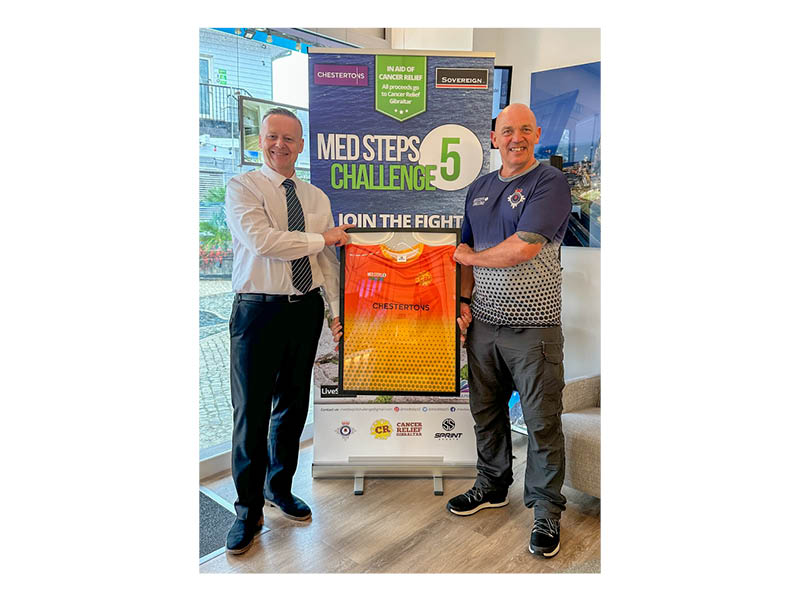 The MedSteps5Challenge, the Prison Service's annual charity event and a firm fixture on the Rock's community event calendar will take place on 20th April 2024 and will be sponsored by Chestertons and Sovereign Wealth.
The initiative sees participants attempt to climb the Med Steps from one to five times in a day in a bid to raise money for Cancer Relief Gibraltar.
Over £100,000 has been collected for the charity in the nine years since the event began.
Organiser Mark Cooper commented: "Generous sponsorship now means the MedSteps5Challenge can attract an even greater following, with all participants now receiving a quality event T-shirt with their £15 entry fee. Any participant who raises more than £150 through JustGiving, will get free entry including a T Shirt. On completion of three or five laps, participants will also receive a medal. Mark added that 100% of funds raised go to Cancer Relief Gibraltar.
Chestertons' Paul Duck, Managing Director commenting, "Chestertons is thrilled to be part of the 10th anniversary MedSteps5Challenge, and we're excited to join hands with the organisers and sponsors to make this event even more remarkable for the benefit of Cancer Relief, a charity close to our hearts."
Both Chestertons and Sovereign Wealth are committed to promoting the event to attract a record attendance and a record sum for Cancer Relief. Livescore and Image Graphics also supporting.
The MedSteps5 team will have two open days to promote the event on 8th March and 10th April at the Piazza, 09.00 to 15.00.
For any enquiries, contact the team via the Facebook page 'Med Steps 5 Challenge'.
Contributed by Mike Nicholls