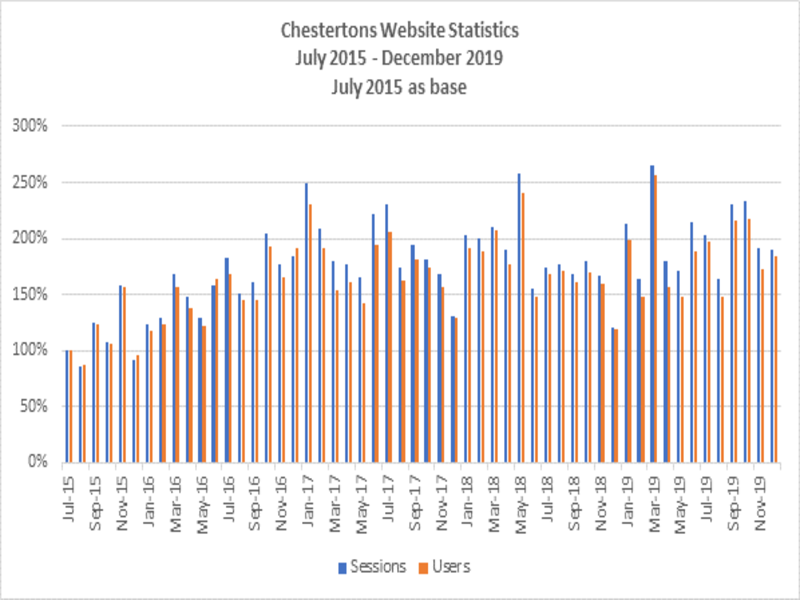 The number of users accessing the Chestertons.gi website was 10% higher in 2019 than our last record breaking year, 2018. New users (ie counting users only once each despite frequent visits) were 12% higher. There are definite signs of a Boris Bounce with an increase in users of 32% in the six weeks since the general election over the same period last year.
March 2019 set an all time high for number of users in any one month, whilst on a monthly basis, May, September, October, November and December set new highs for those months.
Amazingly, our website was accessed from 155 different countries during 2019. The user profile was 61% in the 18-34 age bracket whilst 54% were male and 46% female.
Boris Bounce
From a website statistics perspective, the Boris Bounce has been dramatic. Using the date period 14 December 2019 (the day after the election) to 23 January 2020, the number of users is 28% up on the same period last year and the number of unique users 32% up.
Interestingly, the number of users on our site in this six week period from Malta doubled and from the USA was up 83% against the same six weeks last year.
Paul Duck, Managing Director of Chestertons Gibraltar stated "We have certainly been feeling a significant 'bounce' since the start of this year whether Boris related or not. In any event, these year on year statistics are music to the ears of our vendors and landlords. We will always seek to improve and when statistics confirm our effort, we can take some comfort from our collective success."

Contributed by Mike Nicholls