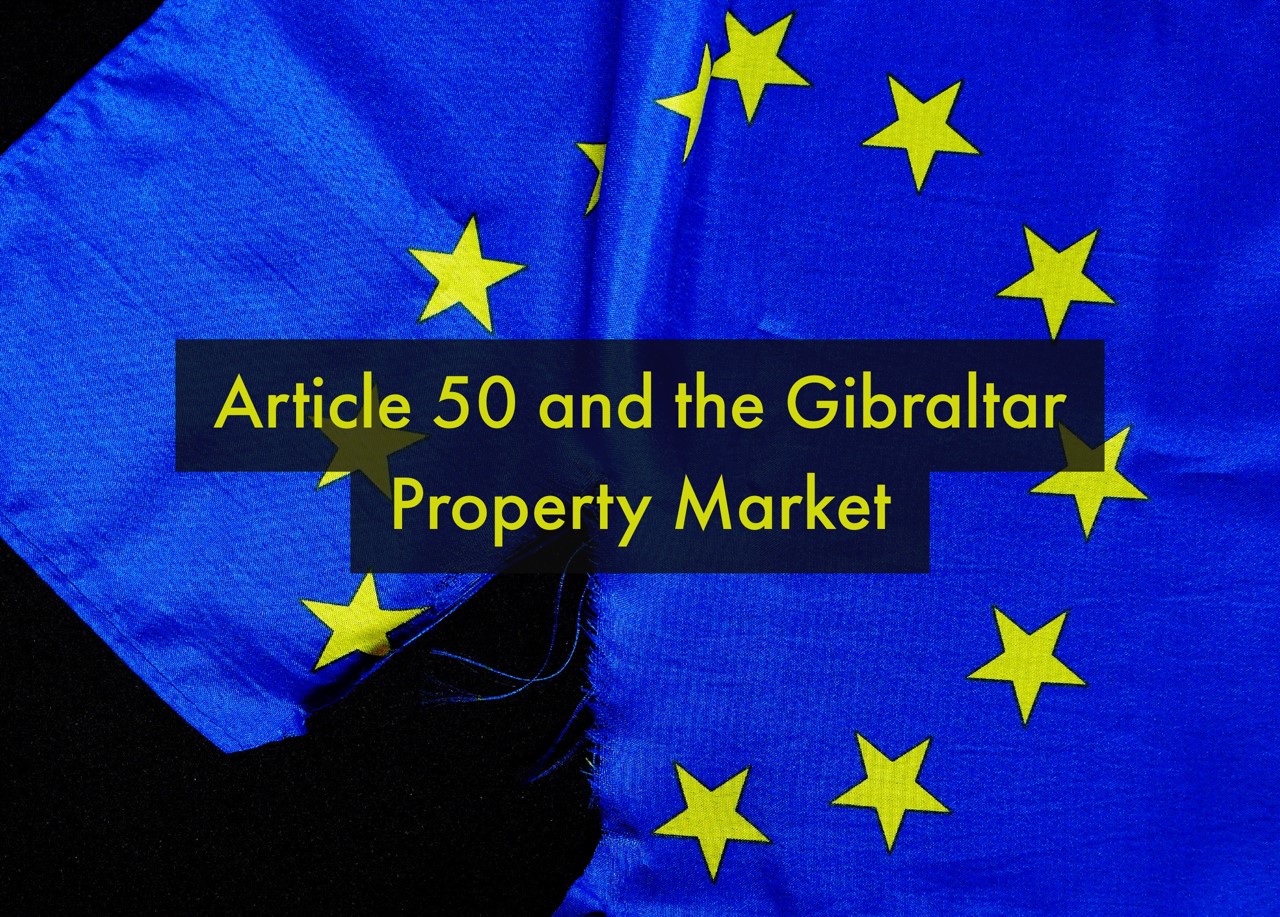 Finally the deed is done! The long awaited formal notification that the UK wishes to leave the EU has been delivered. No doubt many will be wondering what impact this might have on the Gibraltar property market.
With regard to our status within the EU, very little will change immediately as the EU needs a consensus from the remaining 27 Member States before negotiations can begin. This may not happen until late May or even early June to avoid clashing with the French elections.
However, one point that is very clear within Article 50 is that two years after its activation, the UK, and therefore Gibraltar, will no longer be a member of the EU, whether or not a deal has been struck on the terms of the divorce – unless there is mutual agreement to extend the negotiation period.
With specific regard to Gibraltar property, the immediate impact of signing Article 50 will be negligible save for perhaps some media comment which will argue the future prosperity of Gibraltar either way. Spanish media will likely remain provocative as it backs its nationalistic stance and jostles with its antagonistic position. The property market has known for some time that Article 50 would be triggered by the end of March and any response, which thus far has been more positive than negative, is therefore likely to have occurred already. Attitudes may of course change once details of the negotiations emerge, with specific reference to the Gibraltar's border with Spain, however that is some way off and neither prices nor activity are likely to see any further change from the current position until then as a direct result of the triggering of Article 50.
Our experience currently is that some 25% of property owners are pessimistic and believe there is trouble ahead. The remaining 75% are split approximately 50/50, meaning some 37.5% of the view that Gibraltar will become unshackled from the EU and will be able to forge ahead with a unique trading position in the European economy which will attract further talent due to its fiscal and lifestyle advantages. The remaining 37.5% are don't knows, perhaps thinking property prices will continue to edge up slowly and surely as they have done for the last 15 years.
Certainly, the undersupply in the property market has to be addressed to prevent prices spiralling out of control. We estimate that up to half of Gibraltar's non-Spanish workforce currently living in Spain would seek to move to Gibraltar if the availability of property improves, especially at the affordable end.
In the meantime, sterling may suffer a further slight decline against both the dollar and the euro, although the market is likely to have already priced in Article 50. There may be a bout of nervousness from some investors as the reality of the formal commencement of the separation hits home but our experience is that most have already taken stock of the situation and decided to act - or not - as the case may be.
The jury is out as to whether financial services and gaming companies will move staff abroad to any large extent. Up to 90% of trade in Gibraltar's gaming and finance sectors is with the UK. For these employers, the border issue, as opposed to the single market issue, is the more likely to determine whether they move staff away from Gibraltar. In London, the tech sector is rapidly increasing its presence and already employs more people in the capital than financial services. Gibraltar must ensure that it becomes an important technology hub of Europe and attract talent and venture capital from around the world, not just Europe. Technology has to become our new growth sector in this competitive global marketplace.
Arguably, a more immediate issue on pure financials, is the likelihood that interest rates will rise sooner than anticipated against a backdrop of rising inflation and the second hike in US rates in three months. This may possibly prompt a flurry of activity among buyers to advance their purchase plans and owners to re-mortgage.
Co-authored by Richard Davies, Chestertons International.
Watch Mike's recent interview on the Gibraltar property market on local news network Your Gibraltar TV.
Contributed by Mike Nicholls