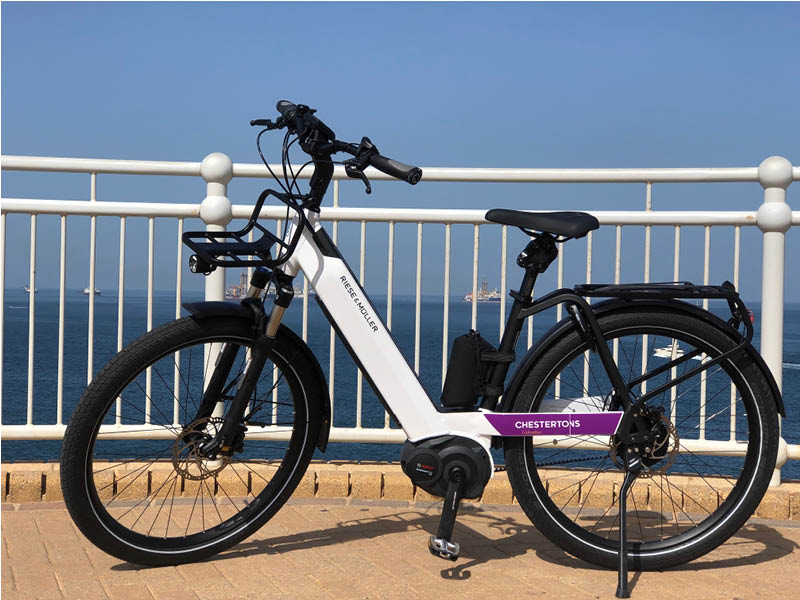 Chestertons has made its four 'eBikes' available to the public on an hourly rental basis.

After successful trials with staff travelling to properties around Gibraltar for viewings and market appraisals using electronic bicycles, Chestertons has acquired four of its own, which are now branded with the familiar purple logo. These four 'eBikes' are now available via EBike-Gibraltar in Ocean Village for members of the public to rent on an hourly basis.

Mike Nicholls, Chestertons' CEO said "the eBike has proven to be immensely popular with staff, at the same time as reducing our carbon footprint in Gibraltar, so it's a win-win from our company perspective. On a personal basis, the thrill of being able to cycle to the top of the Rock every weekend has been immense. I cannot recommend the experience, the achievement and the exhilaration high enough. And with a battery to give you a boost up those hills, virtually everyone can do it!"

EBike-Gibraltar opened mid 2019 and was regularly taking tourists on a variety of guided bicycle tours, however, they have had to re-focus their business model more recently. Their stock of eBikes is now available on daily or weekly terms to locals, at least until tourists return in their droves. Meanwhile, Mike has gone one step further and has made Chestertons' eBikes available by the hour. "The most efficient use of an asset is if it is shared. We will not use these eBikes all the time so I wanted to make them available to others. When we are not using them, EBike-Gibraltar can rent them out on an hourly basis on a revenue share model under the brand Chestertons "On Yer Bike".
Stuart Hedley, co-founder of EBike-Gibraltar said "the eBike has the ability to change your life. Recent reports reveal that riding an eBike can boost your mood, reduce your stress levels, improve your physical fitness and save you time. We are delighted to see so many members of the local community realising the benefits - from members of the government, private individuals and industry leaders. Our intention is that every sale we make has a hugely beneficial impact, not only on the life of our client but also on the wider environment."
The Chestertons' models available to rent retail at over £3,000 each and are available at £20 for the first hour and £5 per hour thereafter. Contact info@ebike-gibraltar.com or visit their website www.ebike-gibraltar.com to book online from 9th July 2020.
Contributed by Mike Nicholls