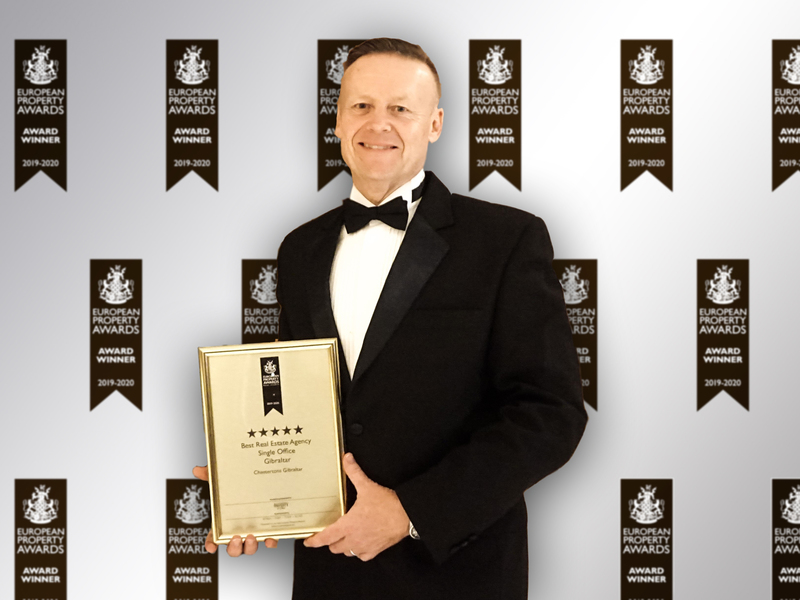 Chestertons has won 'Best Estate Agency in Gibraltar" for the third successive year at The European Property Awards ceremony held in London on 24th October 2019.
Managing Director, Paul Duck and Operations Director, Lisa Kilkenny, collected the Award on behalf of Chestertons Gibraltar at a glitzy awards ceremony at The Royal Lancaster Hotel in London, packed with property professionals from across Europe.
The awards are judged by an independent panel of over 80 industry experts, chaired by Lord Caithness, Lord Best, The Earl of Liverpool and Lord Thurso, each one a member of the House of Lords in the UK Parliament. Judging focuses on design, quality, service, innovation, originality, and commitment to sustainability.
"To win best estate agency in Gibraltar three years in a row is testimony to many factors but most importantly the hard work of our dedicated staff" said Paul. "We pride ourselves on our level of service, expertise, international marketing and our incredibly high standards. The fact that industry experts of this calibre give us this award after judging our effort, our output and our effectiveness for clients, is a huge statement for us here in Gibraltar."
Mike Nicholls, CEO said "The success of the Chestertons' business here in Gibraltar continues to go from strength to strength. Now with two offices, more staff and continually improving technology and marketing to achieve our clients' objectives, we are beyond proud to collect this 'best' accolade three years in a row ".
Contributed by Mike Nicholls