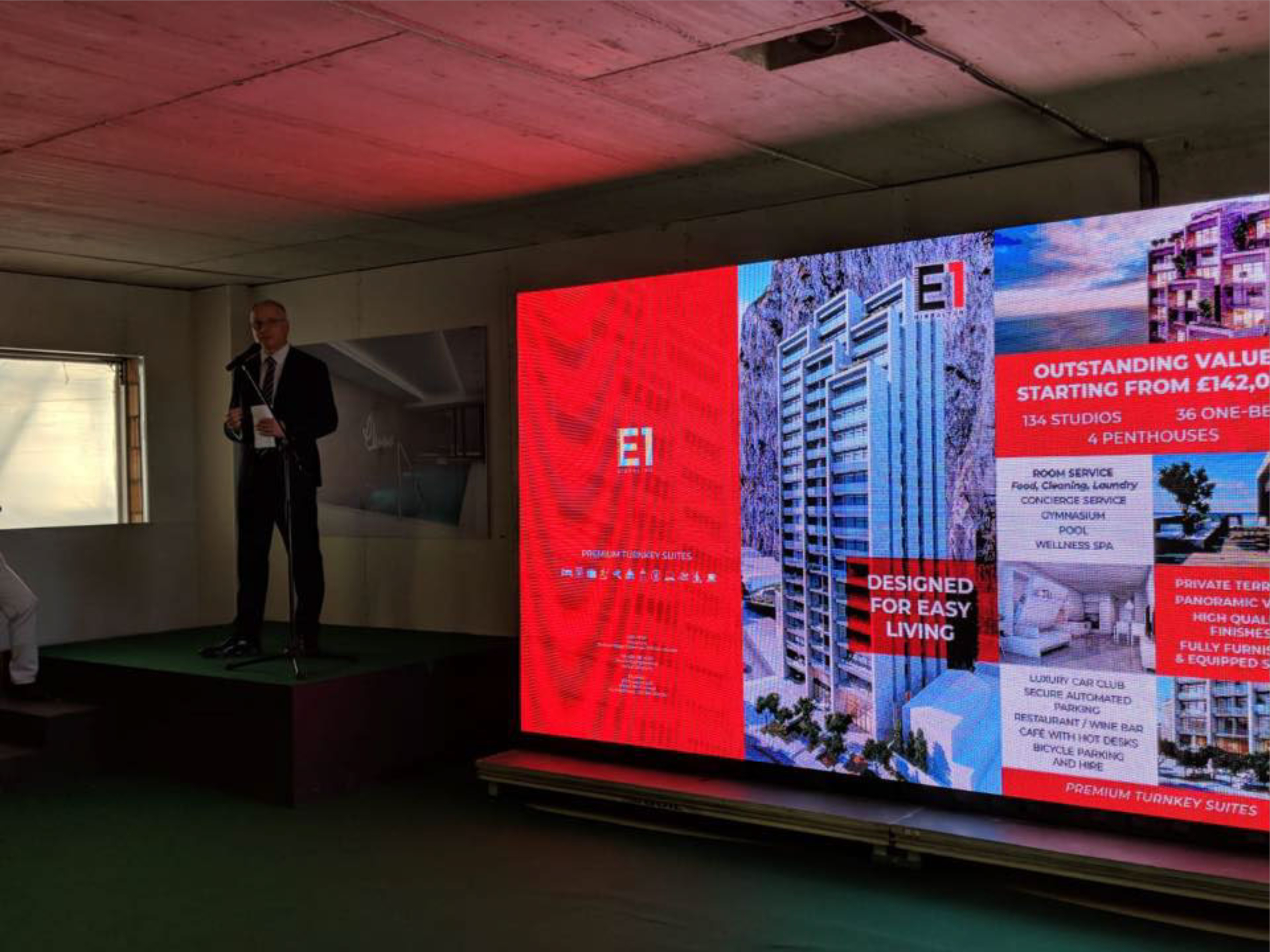 Chestertons was proud to co-host the grand opening of the show flat at Clemence Suites on 25 September 2018. Guests were treated to a tour of one of the Clemence Suites' fully furnished apartments, giving an idea of just how these apartments can look when the project is completed in April 2019. Chestertons' staff were there in numbers to present to the guests a glimpse of the developers' next project, E1, a stunning development near the entrance to the new tunnel at Eastern Beach. Click here to view a video of the Clemence Suites show flat.
The event was attended by purchasers of Clemence Suites' apartments as well as other guests from across all sectors of Gibraltar's society.
After a sumptuous buffet lunch laid on by the developers, there were various speeches, including a few words from Patrick Cabezuto, Peter Cabezutto, MDs of the developers and Sir Joe Bossano, Minister of Economic Development. CEO of Chestertons, Mike Nicholls gave a punchy introduction to E1.
"Ladies and gentleman, I have to say that the Clemence Suites show flat is amazing, a real testament of the quality that these developers are introducing to the Gibraltar property market. I must also thank the developers for inviting Chestertons to represent them on their next development, E1, a truly unique concept, ripe for Gibraltar's short and long term property demands in the open market rental sector.
E1 is 174 apartments for residential use in a hotel style building. What does that mean? Well, it means that the development provides its occupants with:
• Gym, wellness spa, pool, treatment rooms, sauna, steam room
• Dry cleaning and general cleaning services
• Restaurant
• Co-working area
• Concierge
• Car club
• Bicycle and moped stands
Who pays for these services? The occupant pays. So owners can expect value for money service charges as the service providers contribute to the service charges of the building and it is the user of these services, the apartment occupant who will pay for the services he or she enjoys. What's more, the deal with the gym / spa operator is that the building's occupants will get 30% off the normal rate to use the facilities.
An E1 apartment is ideal for landlords. Indeed, ideal for owner occupiers too, planning ahead. Why?
• Most below stamp duty
• Fully fitted and equipped, including TV, washing machine, towels, bed, sheets, toaster and even a citrus juicer! So, zero hassle
• Capital allowances on the cost of the fixtures and fittings
• 2 year tax free on rental profits
• Most sought after style of property by AirBnB tenants – the growth sector of the next 10 years across all major cities in the world – whether business or pleasure
Location
• E1 will be one of the first if not the first building witnessed when newcomers emerge from the new tunnel
• E1 is a stone's throw from one of our best beaches
• E1 is an easy walk to the airport and Ocean Village
• And for wine lovers, E1 is next door to the new wine vaults currently under construction
The official launch is some 2-3 weeks away when we upload the units to our website, Rightmove and start advertising. Until then, there are some great discounts and best choice during this pre-launch phase for clients of the developers and Chestertons.
And as for the brochures, trying my best not to release them yet, but here they are, they look great – well done Gerry Martinez on a fantastic job.
Thank you"
Minister Sir Joe Bossano gave the last speech and commended the developer for building this style of apartment which was affordable whether for buying or renting to the large number of workers currently locked out of Gibraltar's housing market.
Should you have any questions on E1, please contact us on info@chestertons.gi, we are only too pleased to help.
Contributed by Mike Nicholls