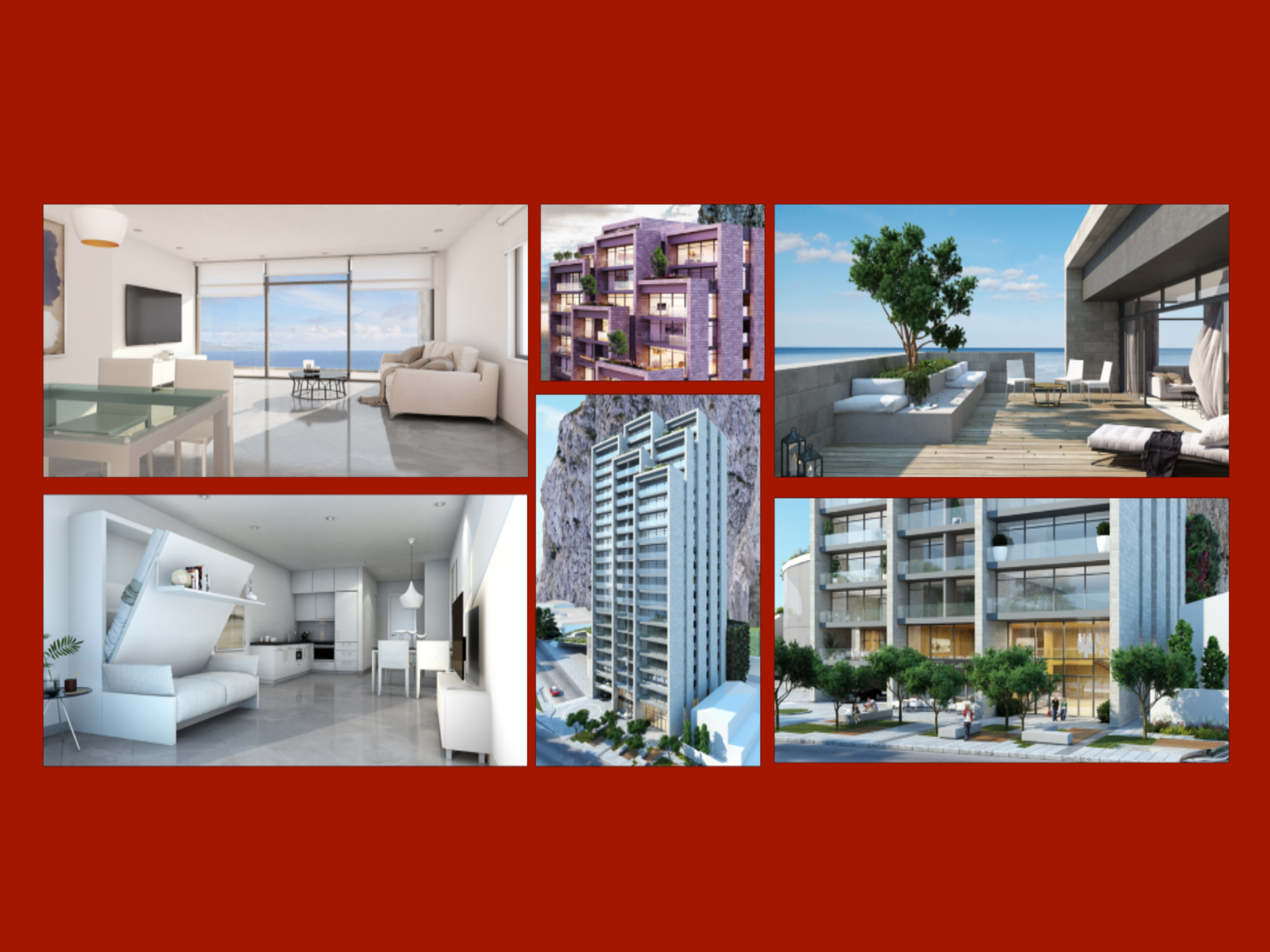 E1 was granted detailed planning consent on Tuesday 26 March 2019. As a result, construction is expected to start imminently following the completion of site preparation works late 2018.
E1 is a beautiful collection of 174 deluxe suites, presidential suites and presidential penthouses intelligently designed to offer the utmost in practical living.
The world's densest cities have struggled to accommodate the increasing numbers of people wanting to live centrally. Gibraltar is no different. These suites offer the opportunity to live in a high-end specification space of outstanding value with prices starting from £4,200 per sq m (fully furnished) or £142,000.
Living alone increases the demand for hotel style services, such as room service (food, cleaning, laundry including dry-cleaning), concierge, gymnasium, pool and wellness spa. E1 provides all of these services for its residents. E1's architects have worked hard to ensure a sense of space in a building full of amenities, located within walking distance from the city centre, the Gibraltar airport, the Spanish border and Gibraltar's eastern side beaches.
This development represents an excellent opportunity to acquire an early foothold within an area which will be hugely transformed by the much anticipated Eastside Project, offering modern and practical living at remarkable value.
E1 presents a very attractive opportunity for landlords with most units below the stamp duty level and no further costs of furnishing. Plus, the tenants will enjoy the amenities. From a short term perspective, the suites easily lend themselves to guests looking to enjoy hotel style facilities (at an additional cost to the occupant), with the convenience and comfort of a home, whether visiting for business purposes or for leisure. Our short let department is looking forward to taking in E1 apartments for short lets and our recent blog highlighted the demand for short let apartments.
E1 boasts spectacular Mediterranean views, high quality finishes throughout and enjoys features such as Marazzi natural stone flooring, generous fitted wardrobes, spacious terraces, air-conditioning with reverse cycle climate control and avant-garde fully fitted kitchens. These suites are ready to move in with kitchen equipment, flatscreen TV, bedding, towels, furniture etc. all provided for as if you were staying at a hotel.
Residents may also benefit from private parking in the secure covered automated car parking stacker as well as secure access to the commercial areas and amenities.
Bicycle, moped and car parking spaces will be available to hire, whether for a short term stay of 3 nights or long term stay of 24 months.
Since launch, some 120 apartments have been reserved. Further information can be found on the E1 website and latest E1 availability is here.
Contributed by Mike Nicholls