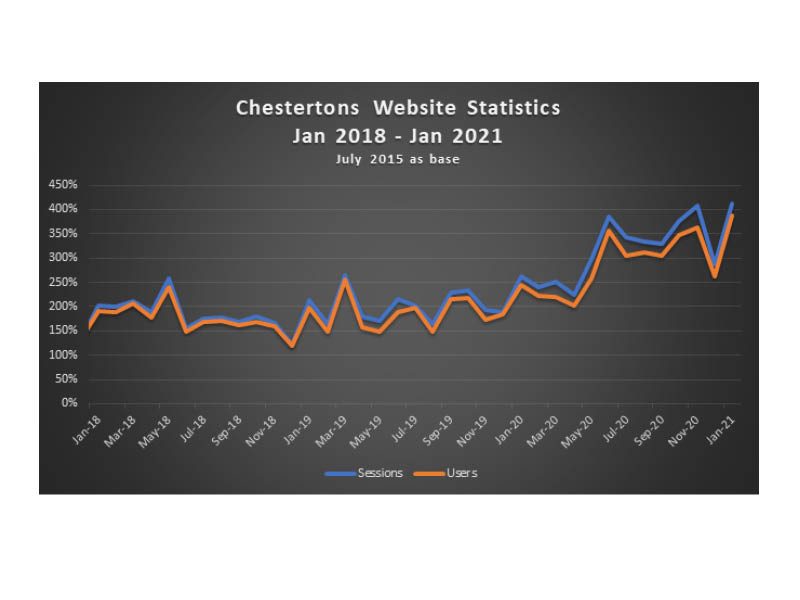 Interest in Gibraltar property, as measured by the website Chestertons.gi, has hit new highs with January 2021 recording the highest ever visitor statistics. And the additional traffic is being driven by international interest, despite strong figures from within Gibraltar itself.
January 2021 recorded the highest number of users, the highest number of sessions and the highest number of page views of any calendar month since records began 10 years ago. The previous best was November 2020. Each metric was up more 50% over January 2020.
Analysing why, one could suggest that with a social lockdown, users are visiting the website as opposed to walking into one of our two agencies. However, a deeper look at the figures shows that in January 2021, 60% of users were from outside of Gibraltar compared to 52% last January. Indeed, although the number of users in Gibraltar and Spain are up, the % share in both geographic areas is down whilst UK users have increased their share from 24% to 27% of the total, up 73% in absolute terms. Outside of Gibraltar, Spain and UK, users from the rest of the world grew 41% with Finland, USA, Netherlands, France, Germany, Austria and Hong Kong making up the top 10 in January 2021.
These statistics have been borne out in business activity as well with a significant number of deals closed in January based on virtual viewings from overseas applicants who cannot visit but still wish to close a property transaction.
"Schengen, a fabulous team, a strong brand, smart marketing and low tax all contribute to these great results" said managing director Paul Duck. "Between Chestertons and Gibraltar PLC, we are doing something right, as far as the property market is concerned".
Contributed by Mike Nicholls