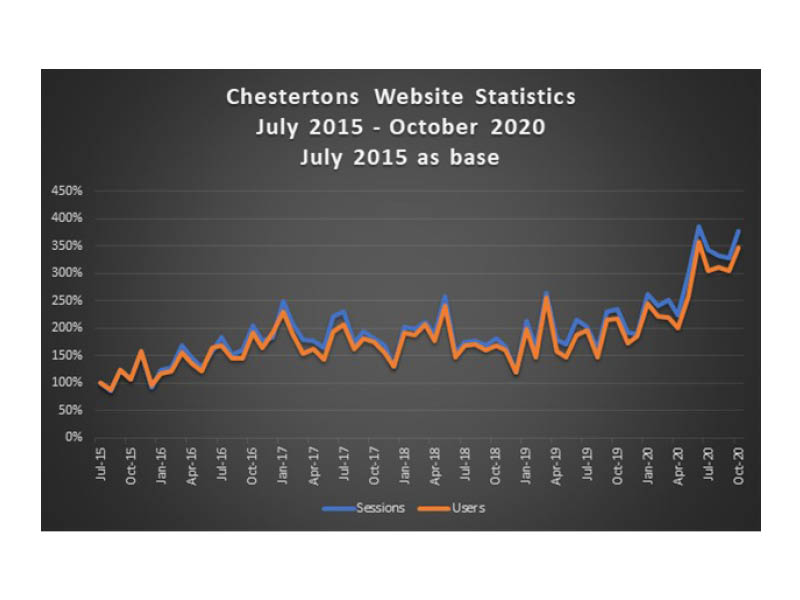 The number of unique users accessing the Chestertons Gibraltar website in October was the highest ever recorded for the month of October and the second highest month on record. The number of sessions these users undertook on our website was also a new record for October and the second highest on record.
As demonstrated by the graph, since Chestertons was allowed to re-open in Gibraltar on 1st May 2020, the levels of interest in Gibraltar property has soared, with each month since setting a new monthly record.
Calendar year to 31st October 2020 shows a 148% in the number of unique users accessing the Chestertons Gibraltar website. Furthermore, users from 164 different countries have accessed our website so far this year compared to 152 at the same stage as last year. The top ten are Gibraltar, UK, Spain, USA, Ireland, France, Germany, Portugal, Netherlands and Finland. Interestingly, in 11th place is Malta as employers and employees from the jurisdiction seek to relocate to Gibraltar where they or their employer is UK financial services focussed for a post Brexit era.
"These are great stats for our vendor and landlord clients who entrust us with marketing their property to the widest audience possible" said Mike Nicholls, CEO. "The interest in Gibraltar generally just seems to keep on growing, whatever the world throws at us, and Chestertons continues to contribute to the international marketing success story for the benefit of our clients".
Contributed by Mike Nicholls