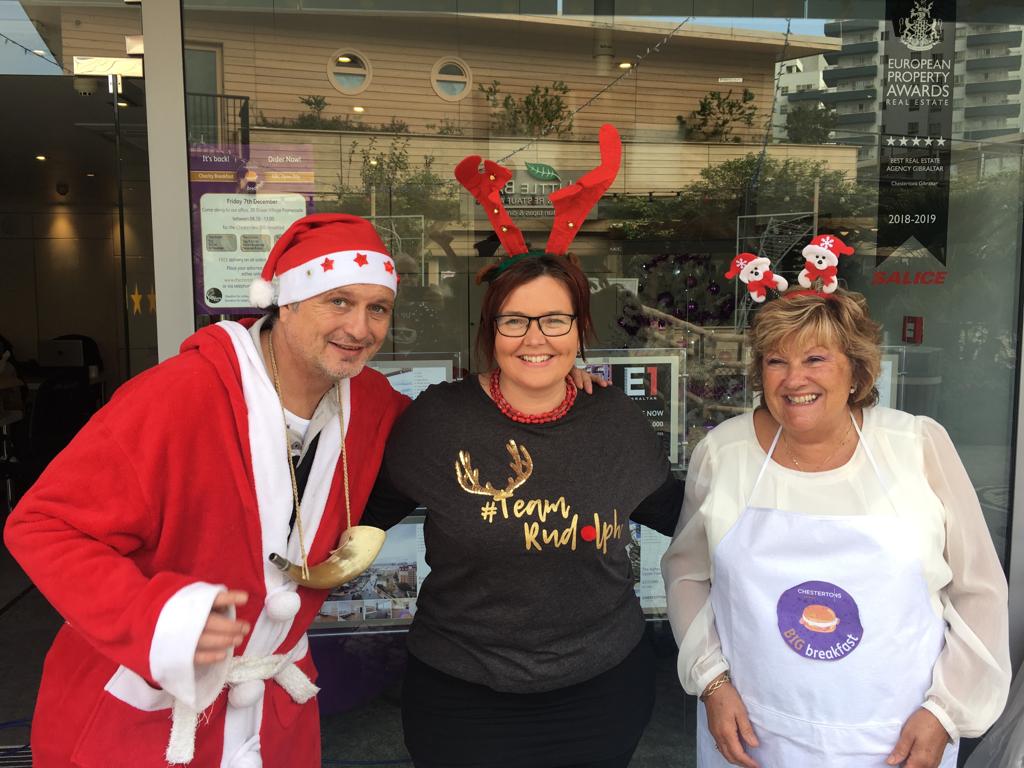 Chestertons' Big Breakfast this year raised £3,440 for GBC Open Day charities. This popular annual event sees the staff abandon their estate agency duties for a few hours to cook and deliver breakfast baps with every penny taken being donated to the GBC charity.
Ahead of the big day, some 580 baps had been pre-ordered by local companies via Chestertons' Big Breakfast website. Delivery slots were organised and a team of Chestertons' staff reported for duty at Bruno's Restaurant's kitchen at 7.30am to start the cooking and assembly process.
The dedicated delivery team from Chestertons were handed bags of food and scooted, drove or walked around Gibraltar delivering breakfasts with smiles and Christmas jumpers.
Another team were stationed outside the Chestertons' Ocean Village office, cooking breakfast baps to order to passers-by, actively encouraged to purchase by a Santa Claus drumming up support with Christmas music in the background to anyone close by ensuring that there was a queue all the morning until lunchtime.
This year Morrisons kindly donated the baps and eggs so that Chestertons contributed the retail value equivalent to the final takings. Similarly, the generous Fastafood discount on bacon and sausages was also donated by Chestertons.
GBC TV cameras captured the fun and will show the effort on the GBC Open Day broadcast. Social media was awash with selfies as staff arrived at banks, legal firms, government departments, construction companies and a mass of other corporates with pre-ordered breakfasts.
"It's both exhausting and rewarding" stated CEO Mike Nicholls. "Preparation starts a few weeks before the event as we ramp up awareness, order stock, organise staff into teams and ensure we are ready with all the incidentals, like hair nets, aprons, music, sauces and extension leads. Each year we become more efficient and we make less mistakes. Of 50 deliveries, we only messed up one I think!"
This year's sum of £3,440 easily surpassed last year's record of £2,250. "A price increase of 50p, generosity from suppliers where we contributed the sum we expected to pay, donations from some clients and the event just growing and growing in size each year all played their part. It will be difficult to beat next year but we will most certainly try. We must also thank Bruno's for the loan of their kitchen, obviously we couldn't have achieved this number of breakfasts without their support."
Contributed by Mike Nicholls