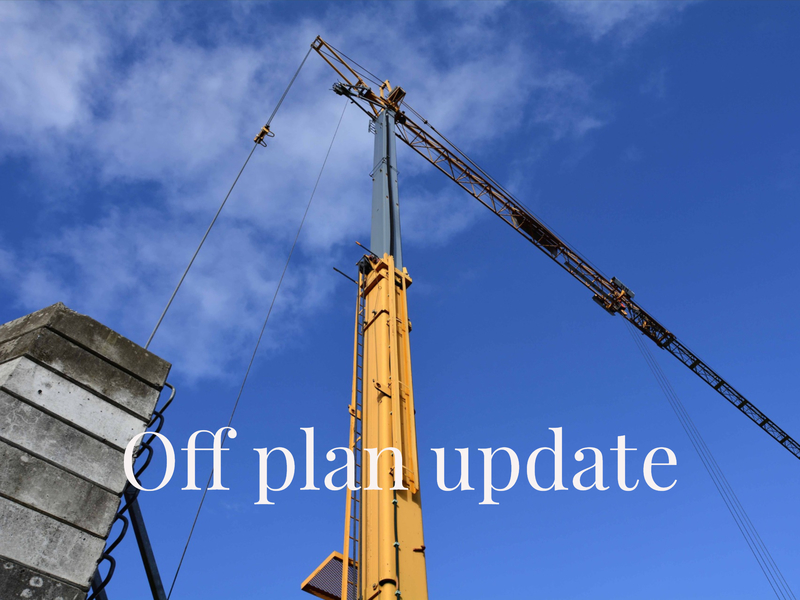 The off-plan property market in Gibraltar remains vibrant with some developments completing imminently, others continuing apace and there's some developments about to start construction. Confidence in the off-plan sector continues across the spectrum of investors, developers and funding institutions.

Although not yet ratified, the Spanish Gibraltar tax agreement which has the impact of discouraging Spanish tax residency even further than at present, is fuelling demand for Gibraltar property generally, and this radiates across resales and off-plan property.

The on-going property demand supply imbalance is nudging up prices and rents. A record number of jobs in our growing economy was announced last week in the Gibraltar budget with employment now at 29,995 jobs which will keep pressure on property prices for some time.

A summary of the status of each off-plan development is below and is correct as at the publication date of this blog.

E1
Site preparation works are all but complete and the main contractor is expected to commence early July 2019. All consents are in place, bank funding has been credit approved and some 110 units have exchanged contracts. Sales activity has ceased allowing time for the closure of the funding and completion of the last few remaining exchange of contracts. A second release of apartments is scheduled for when the main contractor is on site. It is often the case that a different style of investor expresses interest in developments under construction as the completion date is known with a greater degree of certainty. The E1 Wellness Spa and Gym and Pressto Dry Cleaners are confirmed tenants and the wine vaults next door opened a few weeks ago. We act as development consultant and the development is exclusive to Chestertons.

EuroCity
After record breaking sales in 2018, construction started on this award winning development just before Christmas 2018 with the completion of Carrara due in 2021 and Murano in 2022. Construction is currently a few weeks ahead of schedule. As development consultant and the retained agent of the developer, we shall be launching a third release shortly, in Murano. All available units in Carrara have sold out. EuroCity is a prestigious mixed use development in Gibraltar's business district. The views, the design, the high grade specification, the pools, gardens and retail amenities have already made EuroCity a sought after location in Gibraltar's property sector.

Clemence Suites
Notices to complete in this sold out development in Devils Tower Road are due to be issued any day now. Some tenancies have already been signed up. The building looks stunning. Clemence resales and Clemence rentals are available.

Sylvian Suites
This is a small new development of 38 properties (studios and one beds) close to Prior Park School and the Arches. Following the sell out of the first release, construction is now underway and the remaining 10 units will be released most likely in September 2019 at just beow £4,000 per sq metre. This is great value for anyone seeking to live close to the town centre and not having to wait too long for completion which we expect in Jan 2021. Contact us as development consultant and main agent if interested.

The Hub
Topping out was achieved last month in May 2019 and this development remains on track for May 2020 completion. There are some resale properties are available from private investors. The first release of the Hub sold out in a week back in December 2017. We expect the Hub to be very popular with tenants. Contact us as development consultant and main agent if interested.

Ocean Spa Plaza
Purchasers and owners are moving in to this Ocean Village development which has now completed. There is still time to enjoy the luxury pools and spas at this development this summer via a handful of available resales. View the Ocean Spa Plaza properties for sale, and Ocean Spa Plaza properties for rent.

Imperial Ocean Plaza
Completion of this final Ocean Village development, with its access to the most popular private pool and garden resort in Gibraltar is imminent and we expect notices to complete to be sent out shortly. Some Imperial Ocean Plaza resales are available although access is not yet allowed.

Marina Club
Marina Club was placed off-market. Piling has begun in Marina Bay close to the Sunborn and there is a plan to move some of the yachts to alternative berths. There may still be opportunities so do contact us for further information.

Forbes
Located along Gibraltar's new Golden Mile (Devil's Tower Road), construction is expected to start imminently. There are a handful of Forbes properties left, mostly the 3 and 4 beds.

Midtown
The offices have been completed and the main tenant, Hassans, moved in a few months ago. We expect the first residential occupants to move in during the autumn of 2019. Some Midtown resales are available.

Quay 29 & 31
A further 200 apartments in the Kings Wharf trilogy. Quay 29 should complete Autumn 2019 whilst Quay 31 will follow later this year or 2020. Some Quay 29 resales are available.

Arengo's Gardens
Although running behind schedule, the tough groundworks are all but complete with late 2020 being the revised date for the project completion. There are some fourteen or so properties left. Contact us for latest information.

Continental Suites
Await planning consent - Chestertons has been appointed development consultant

Kings Bastion Views
Await planning consent - Chestertons has been appointed development consultant

Rialto Courtyard
Await planning consent - Chestertons has been appointed development consultant

Contributed by Mike Nicholls