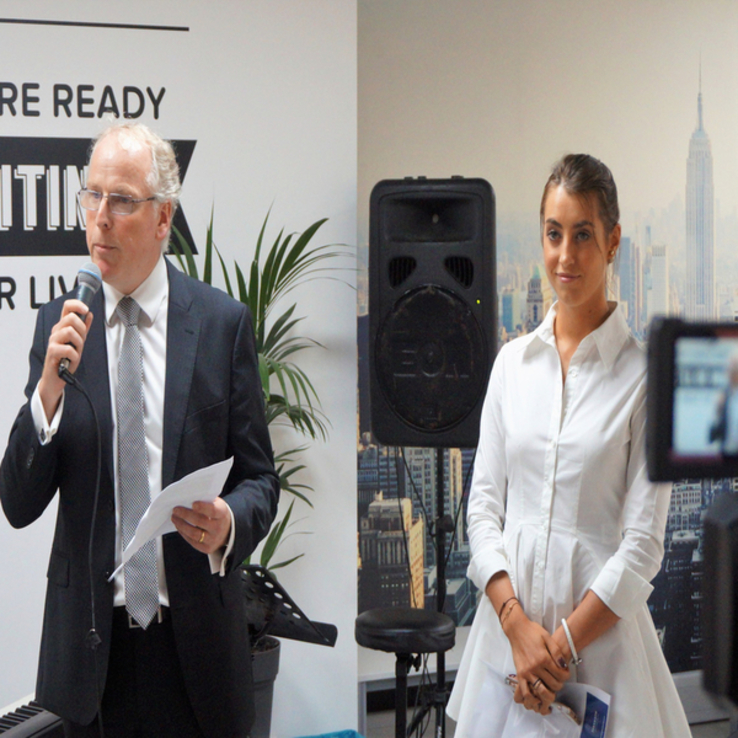 Chestertons was proud to co-host the grand opening of WorkLab on Thursday 20th September 2018, together with the owners, Bentley Investments. WorkLab is Gibraltar's first co-working space offering flexible leases.
The event was attended by guests from across the start-up, entrepreneurial, training, professional and large business spectrum.
Mike Nicholls, CEO of Chestertons, gave the following address:
"At Chestertons, we have a commercial department, which focuses on how we can help businesses of all sizes from start-ups to multi-nationals with their property requirements.
Start-ups and new entrants to Gibraltar want to be operational with the minimal of hassle and in the shortest possible timeframe. Start-ups and new entrants want immediate connectivity, a desk, phone, an address, secretarial support and like-minded tenants.
WorkLab, could not have come at a better time. Let me explain why.
Firstly, despite the referendum and the negativity shortly thereafter, there has not been an exodus of companies leaving Gibraltar. Indeed, the guaranteed common market we have with the UK has attracted some businesses to Gibraltar.
Secondly, the government has done a fantastic job being the first jurisdiction to offer a regulated environment for the blockchain industry and now crypto. We have existing and new entrepreneurs establishing new businesses near daily.
Thirdly, coworking is not just about start-ups, flexible working patters mean that larger businesses, not just start-ups, need to scale up and scale down their businesses seasonally or occasionally and flexible workspace is the most efficient way to accommodate those space requirements.
Fourthly, training companies in Gibraltar seek modern space in the City Centre to deliver the growing demand for training. Back rooms with dodgy aircon and noisy neighbours in a remote location difficult to access can be a thing of the past.
According to Jones Lang LaSalle, in the US, the flexible space sector has grown at an average rate of 23% compared to just 1% average annual occupancy growth of the broader US market since 2010. Europe and Asia are following this trend.
There is generally a lack of modern quality office space available in Gibraltar, and minimal flexible lease space which is why WorkLab is such an exciting new concept.
WorkLab provides everything which would normally be available in a large corporate office, and puts it in the hands of small businesses, new starts ups, multi-nationals seeking additional space for an hour or a month or training companies seeking central space.
WorkLab provides a modern professional environment, with individual workspaces, meeting and conference rooms, an outside terrace, kitchen and bathroom facilities, supported by secretarial services and even the provision of disaster recovery services.
As this is a shared facility it makes sense that this can be provided at a fraction of the cost of setting up similar facilities on a business by business bases, whilst providing an open environment which encourages networking opportunities.
Furthermore, WorkLab has partnered with Buckingham Corporate Services to enable Worklab tenants to access company incorporation services, accounting, payroll, business licence applications, tax advice and most other regulatory services.
Just above us are a number of studios and one bedroom properties owned by the same provider of WorkLab available for short term use which will compliment the WorkLab offering.
Demand for modern office space in Gibraltar remains buoyant. Demand for secondary space is easing. Demand for flexible coworking space is just taking off.
Just yesterday, it was announced that WeWork, the co-working space operator in America and Europe, had now become the largest private tenant of office space in Manhattan – some 5.3m sq ft – overtaking JP Morgan previously the largest tenant in terms of space. That's the evolution that is happening in work space.
At Chestertons we believe WorkLab is a valuable and innovative asset for Gibraltar, providing a really useful stepping stone for small and new businesses to get into the office marketplace and for larger companies to manage their space requirements flexibly.
We are delighted and proud to have been asked to support this venture."
All enquiries to Chestertons +350 200 40041 – info@chestertons.gi
Contributed by Mike Nicholls