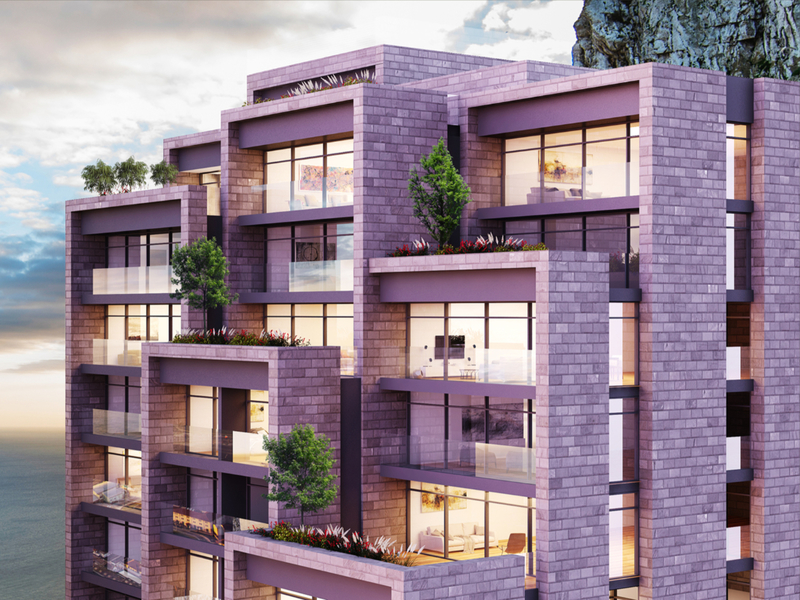 Marriott International is the largest hotel company in the world in terms of the number of hotel rooms, which currently stands at 1.32 million.
Airbnb, which owns nothing other than software, has 7 million property listings for short term stays. On any given night, 2 million people are staying in an Airbnb property. 100,000 cities across the world host an Airbnb property. In 2020, it is forecast that there will be 24 million users of Airbnb in Europe alone.
PC Properties Limited, a Gibraltar developer, has responded to this huge growth and is developing 174 new units in Gibraltar at their flagship development called E1 to meet the needs of the expected future demand for flexible short let accommodation.
Already under construction with a forecast completion date of January 2022, E1 is a mix of studios, one bed and two bed accommodation. What makes E1 highly suitable for the Airbnb clientele are the onsite facilities which guests regularly seek when choosing their accommodation whether for business or leisure.
The E1 Wellness Spa and Health Club is set to launch in the lower ground floor and occupants of E1 will benefit from discounted access. The Spa is a new addition to the local chain which already includes the Ocean Village Gym, Atlantic Suites Health Club and Sunborn Spa. Facilities at the E1 Spa will include an indoor pool, sauna, gym and treatment rooms. E1 occupants can simply walk into the lift and exit into the Spa on the lower ground floor. That's luxury and hugely convenient. Furthermore, for investors of E1 properties there is no cost to this facility. The Spa is a tenant of the building and pays rent and service charges. This is different to some other developments where landlords have to foot the bill for the in house amenities.
Pressto
, Gibraltar's leading dry cleaners have also signed up to E1, providing dry cleaning services to occupants. Stay a few days and have your shirts laundered by simply visiting the first floor unit. Indeed, Pressto will deliver your garments to your room if you are pressed for time (pardon the pun).
With co-working office space and a restaurant on the first floor, occupants of E1 will feel pampered and will want to return again and again. Indeed, should they wish to explore further afield, there will be an opportunity to hire a car from E1 as the development has space for 63 cars in a specially designed car stacker and a short term car hire facility will be available.
Moped, bicycle and motorbike spaces are also available in abundance to service the needs of the E1 occupant.
HVS Global Hospitality Services estimated that hotels lose approximately $450 million in direct revenues per year to Airbnb and you can see why.
Chestertons, already a 'superhost' on Airbnb for its selection of investor owned properties in Gibraltar is set to expand its short let service considerably on completion of E1. Some 35 apartments have already been committed to the new expanded venture which will pool individual investors' properties (together with running costs) in conjunction with the developer. The target and maximum number of properties sought is 50 and we expect to achieve this ahead of launch. The concierge service intended at E1 will make for a most positive guest experience in addition to the amenities available on site. The thought process behind this development has been crucial to ensure that landlords can switch in and out of short let, long let and even their own occupation seamlessly.
Located close to one of Gibraltar's best beaches and opposite the new entrance to and exit from Gibraltar, E1 is an exciting new concept to add to Gibraltar's ever changing landscape. So far, 133 units have exchanged contracts and the sales target of 145 units to be sold by completion looks set to be met well ahead of schedule.
The official launch of the Presidential Suites, upgraded specification units on the 16th floor and above with far reaching views, was postponed last year as purchasers bought the withheld units ahead of schedule. The remaining E1 Presidential Suites are now available to be purchased and have been loaded to our website.
To ensure maximum convenience for investors, all E1 properties are delivered fully furnished and equipped, including towels, bed linen, TV's and kitchen utensils. Furthermore, the first two years of rental income at E1 are tax free under a concession granted by the Government of Gibraltar. Plus all units are minimum 30 square metres internal to ensure that they achieve the minimum mortgage size of both NatWest Bank and Gibraltar International Bank.
700,000 companies use Airbnb for their accommodation requirements. With the completion of E1 in Gibraltar, we expect a fair few local companies to add to that number to accommodate their guests.
Chestertons is the retained sales agent and development consultant of E1.
Airbnb is expected to go public in 2020 and was last valued at €31bn in September 2017.
Source of statistics:
Contributed by Mike Nicholls